Ashley Inns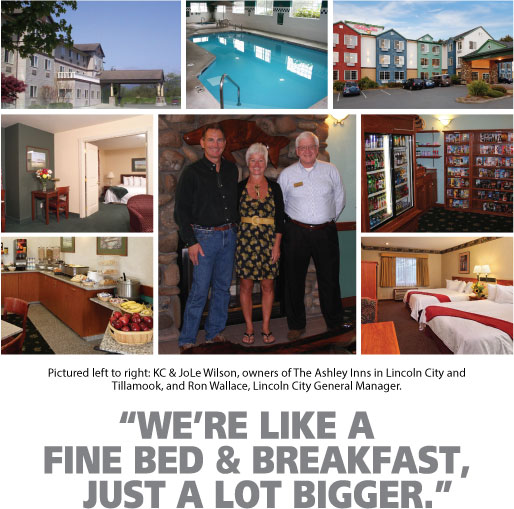 They're the first to admit that they were "amateurs", inexperienced in the hotel business, when they purchased The Ashley Inns in Lincoln City and Tillamook five years ago. But KC and JoLe Wilson soon realized that their inexperience could be an advantage.
While raising their five children, the Wilsons had traveled extensively and they knew what they liked and disliked in hotels. "After buying the Ashley properties we started asking each other questions like Why should all the rooms looks the same? Why can't we serve a fresh breakfast? Why do hotel towels have to be so small?" remembers JoLe. "Being new to the industry, we didn't accept the normal excuses," explains KC. The couple soon began an aggressive remodeling program, investing more than a million dollars in the Lincoln City property alone.
But it was more than just physical changes that turned The Ashley Inns into such popular hotels, the Wilsons also instilled a service-based culture that invigorated employee attitudes and dramatically improved customer satisfaction. "It's really just the Golden Rule," JoLe points out. "Treat people the way you like to be treated yourself – we want all our guests to feel welcome at all times." If an Ashley Inn guest has a special request, they'll be amazed how fast the staff responds. The company's 50 employees are all cross-trained, meaning a front desk operator may clean a room to accommodate an early arrival, or the night auditor may start cooking the fresh breakfasts. The staff is enthusiastic and employees enjoy wages above industry averages.
We're like a fine bed & breakfast, just a lot bigger," laughs KC. Even individual rooms are larger, often featuring separate bedrooms, kitchenettes and private spas. Although colors, decor and floor plans vary extensively, all Ashley Inn rooms feature luxurious amenities like granite countertops and plush bedding. Both properties include meeting rooms, business centers, convenience stores (with wine and microbrews), large indoor salt water pools (gentler on the eyes and skin), spas, saunas and fitness facilities.
Guests rave about the homemade breakfasts, which are included in the price of their room. Eggs, muffins, even biscuits in country gravy are all freshly prepared. "It's all about value," explains KC. "Our rates are very competitive and when people realize how much more we offer, they come back again and again."
In fact the Wilsons are frequent guests themselves. "We try to stay in each of our hotels at least 3 or 4 days every other month," says JoLe. "That way we can have the same experience as a customer – it's the best way to learn how to improve."
While he was growing up, KC's family had been shareholders in a community bank in Colorado. "I know how important it is to have a close relationship with a local banker and you just can't get that with the large multistate chains," he explains. After buying The Ashley Inns, KC and JoLe began talking with various banks in the area. "We were very impressed with Oregon Coast Bank and it's become a great relationship –we really value their input." The bank provided long-term financing for the properties as well as checking accounts and credit card processing. KC takes particular advantage of Oregon Coast Bank's online banking. "No matter where we travel, I can manage our accounts 24/7 through my laptop or even my cell phone."
When you think about it, it's been quite an amazing transformation. When KC and JoLe purchased the Lincoln City property it was in bankruptcy. Despite having no prior hotel experience, they were able to turn it into a thriving business in just five years. In fact today, the two Ashley Inns provide stable employment for 50 people and attract thousands of visitors. The Wilsons have been a great addition to our coastal communities and we're truly proud to be their bankers.