Shade Tree Coffee Stop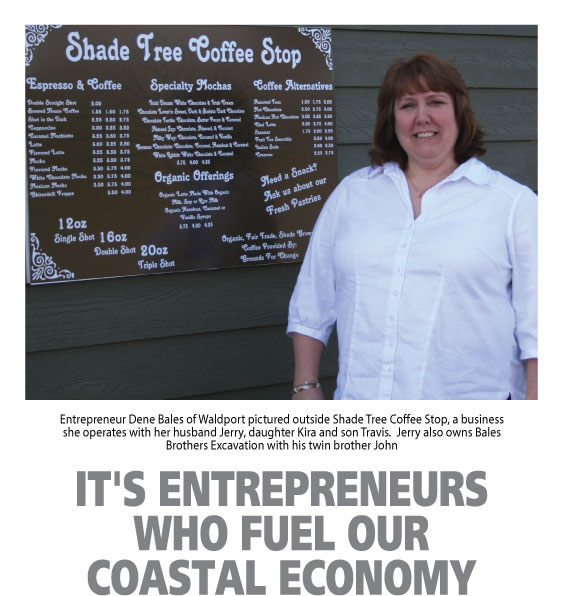 Rarely do they receive credit for their contributions, but it's entrepreneurs who fuel our coastal economy. Dene and Jerry Bales are prime examples. Involved in the restaurant business since she was a teenager, Dene recently sold her Old Town Waldport restaurant, The Shade Tree Coffee House. Almost immediately she opened a new venue, purchasing the Village Bean on the south end of town and converting it to Shade Tree Coffee Stop.
Business has been brisk and the drive-thru stand has developed a steady clientele of locals and visitors alike. One of the couple's daughters, Kira, helps out full time and their son Travis part time. Customer favorites include Irish Dream (white mocha with Irish cream), Caramel Mocha, fruit smoothies, bagels, bagel sandwiches, fruit & yogurt parfaits as well as scones and cinnamon rolls, which are baked fresh daily using a secret family recipe.
As entrepreneurial as his wife, Jerry operates Bales Brothers Excavation with his twin brother, John. Operating in Lincoln, Marion and Benton counties, the company serves contractors and homeowners providing site excavation, utility trenches, lot clearing, driveway work and installation of all forms of septic systems.
To succeed in the excavation business requires a large investment in equipment. "We'd been long-term customers of another Waldport bank," explained Jerry. "But they wouldn't give us an equipment loan unless we mortgaged our home." On the recommendation of friends, they called Fred Postlewait, President of Oregon Coast Bank. Recognizing their strong credit record and employment history, Postlewait quickly made the loan without requiring the additional mortgage. "We were so impressed that we moved all of our business and personal accounts, even our credit card processing, to Oregon Coast Bank," remembers Dene. Since then the bank has provided several other loans to help the Bales' businesses grow.
All of us at Oregon Coast Bank appreciate Dene and Jerry's kind words. We salute their hard work and entrepreneurial spirit and we're proud to be their bankers.