BJs Fabrics & Quilts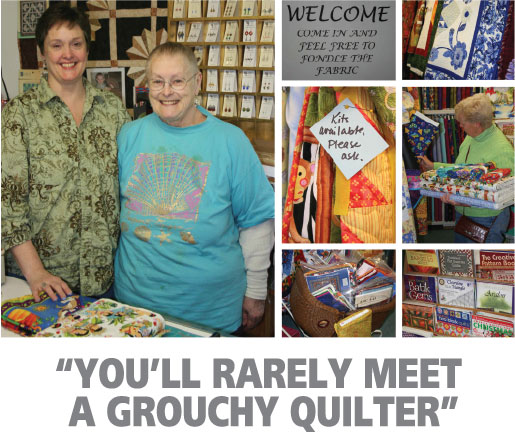 It's a small sign on Highway 101 between Pacific City and Cloverdale that directs you slightly east to BJ's Fabrics & Quilts.  Inside you're almost overwhelmed by more than 3,000 bolts of fabric and quilting supplies, which is why quilters come from all over North America and from as far away as New Zealand and Wales.
Barb Lewis, the store's owner, went to high school in Tillamook, but then spent 50 years in California's Bay Area.  In 1996, Barb and her husband Bob decided to "retire" and bought her grandfather's place near Cloverdale.  They quickly converted the bottom floor into a fabric store.  That was 17 years ago and the store has been growing ever since.
When BJ's first opened, the emphasis was on cotton fabrics.  However, the store has evolved into a quilter's Mecca, sought out by customers who often live thousands of miles away.  BJ's is well known for having an outstanding collection of "batiks", hand-dyed fabrics with intricate, colorful designs. Although quilters generally prefer to feel fabric before they work with it (a sign on the store's front door proclaims "Feel Free to Fondle the Fabric"), BJ's will send fabric swatches to customers visiting their website.  Internet sales continue to grow rapidly and BJ's ships quilting supplies all over the world.
BJ's customers are both hobbyists and professionals who create bedding, wall hangings, purses, jackets, sweatshirts, aprons – all using quilting techniques.  "Quilters are a very rare breed," explains Barb.  "They're fun, easygoing, very honest… in fact you'll rarely meet a grouchy quilter." Quilting groups like the local "Tuesday Stitchers" enjoy shopping together.  In fact, Pacific City has become a popular destination for quilting retreats, groups of quilters who rent a vacation home and hold weekend or weeklong quilting events, which always include a trip to BJ's.
Running a business seven days a week hardly seems like retirement, but that's exactly how Barb likes it.  Bob fixes things and moves around the displays, and the couple has successfully built the business to where they now have a full time employee, Cloverdale native Kathy Trent.
Even with the addition of full time help, Barb doesn't sit back and relax.  Instead, with Kathy's help, she has continued to grow the business.  Since being hired, Kathy has taken over teaching most of the classes and has also made many of the spectacular quilts that decorate the store.  Supplies for most of the display quilts have been packaged as kits, so that customers can create them on their own.  Kathy also designs and manufactures the store's popular earring collection.
Barb and Kathy both mention the "three or four greetings you always get" when they visit Oregon Coast Bank in Pacific City.  "Instead of making you wait in line, someone will always put down what they're doing and open another teller window to help out," points out Barb.  "We appreciate that."  Barb also likes the convenience of Oregon Coast Bank's online banking and online statements.
Watch the smiles and listen to the laughs at BJ's and you'll soon observe that quilting seems to equate to happiness.  But don't just take our word for it, stop by the store, mention to Barb or Kathy that you're a beginner, and they'll help get you started.