Candelaria's Taqueria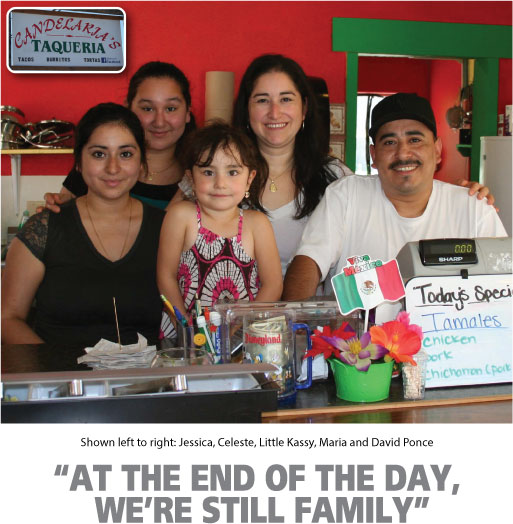 As a young girl growing up in the state of Nayarit, Mexico, Maria Ponce fondly remembers playing outside until dusk. You can do that in a small town.
About twenty years ago the Ponce family moved to Los Angeles, where Maria graduated high school. Los Angeles can be exciting, but she missed living in a small community "where everyone knows each other."
It was her brother David who first moved to Tillamook County to work on a dairy farm. Soon the entire family had journeyed to Hebo and Maria's father also found work at a dairy. Maria's first job was at a gas station in Beaver. Later she worked at the Cloverdale Pharmacy and then learned the restaurant trade working at the Pelican Pub & Brewery for six years.
Having lived and worked about a dozen years in a small community she had grown to love, Maria was determined to become a business owner herself. A restaurant on Highway 101 at the south end of Cloverdale was available with reasonable lease terms. She and her dad each contributed their tax refunds and some of their savings. Her sister invested some savings of her own. The family all pitched in and spruced up the building to the kind of taqueria they remembered in Mexico.
Serving authentic Mexican food, Candelaria's Taqueria has been busy since the day it opened. The restaurant's tortillas are made fresh daily. Using family recipes passed on for generations, Candelaria's Taqueria serves tacos, burritos and tortas (Mexican sandwiches) for lunch and dinner with daily specials like tamales, enchiladas and chiles rellenos. "We try and make you feel as if you were visiting our home," explains Maria. "We love being part of the community."
Candelaria's Taqueria currently employs four family members, which according to Maria can be a challenge, especially when the restaurant is busy. "No matter how stressful it gets, at the end of the day, we're still family –we'll always stick together."
Maria has been an Oregon Coast Bank customer for years and appreciates how helpful our Pacific City staff was as she opened her restaurant. She also likes being able to sync her online bookkeeping program with her Oregon Coast Bank accounts.
Her normal work days now exceed twelve hours and she laughs about "not having a weekend off in three months", but being a business owner seems to come naturally to Maria. The Ponce family clearly understands the value of hard work and we understand what an asset they have become in our community.