CoastCom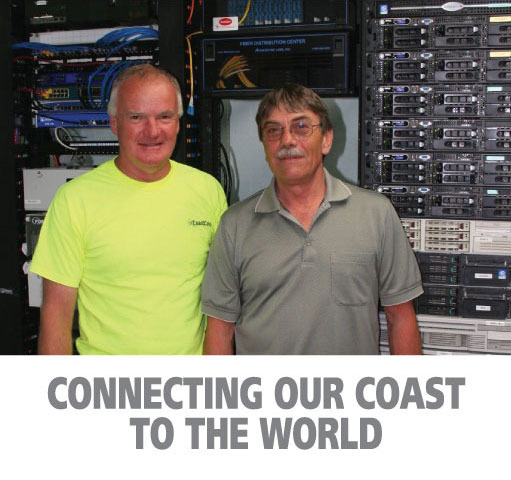 If you're traveling by car, the roads that connect our coastal communities to the rest of Oregon are often windy and congested. But if it's critical data that needs to be delivered, there is a super highway. In fact, most of us who live here are unaware that our hospitals, schools, government agencies and many private businesses are able to reliably exchange critical data throughout the world at cutting edge speeds. That super highway is a fiber optic network.
Considering the complexities of linking the coast through fiber optics, you'd probably imagine that it took a telecommunications giant to do it. But the network was designed and connected by a local company, CoastCom, which continues to manage, maintain and grow the service.
Founded by longtime Newport residents Greg Palser and Doug Updenkelder, CoastCom employs 10 and is growing rapidly. Greg and Doug first became partners in 1986 when they opened Action Networks, which builds and maintains computer networks for area businesses. In 1999 they established CoastCom as a separate company to link fiber optic networks throughout our coastal communities. During 2003, the company began a project to connect the schools of the Lincoln County School District for high speed data transmission. By 2005, CoastCom had added a fiber optic construction division.
CoastCom now serves as a local partner for LS Networks, a consortium of Oregon networks providing the broadest Ethernet access in the state through more than 2500 miles of fiber optic cabling. When companies and organizations on the coast have bandwidth or security requirements exceeding what is offered by normal internet providers, CoastCom will build a fiber optic connection to the customer and maintain it. CoastCom's customers include most of the area's counties, port districts, cities, hospitals and school districts, as well as private businesses such as banks, real estate offices and insurance agencies.
A key aspect of CoastCom's service is what is technically called "path diversity", meaning that if a fiber line is disabled for any reason, the data will continue to flow through an alternate path. As an example, during the monumental December 2008 coastal storms, CoastCom customers remained connected, while most utilities suffered blackouts.
Ironically, despite being in such a high-tech business, CoastCom is known for a somewhat old fashioned value – great customer service. In fact the company has never lost a customer. "Our clients' IT guys all have our cell and home phone numbers," explains Greg. "Even if a customer calls in the middle of the night, we're on it immediately."
Of course building miles of fiber optic network requires a great deal of capital, so having a good banking relationship is essential for CoastCom. "We've been an Oregon Coast Bank customer for eight years and we wouldn't be where we are today without them," comments Doug. "Our business is an unusual one, and it's great to have a bank that takes the time to understand our goals and help us reach them," adds Greg.
By bringing affordable world-class broadband connections to our coastal communities, CoastCom is providing an invaluable service. All of us at Oregon Coast Bank are proud to be Doug and Greg's bankers.