Den-Jo Farm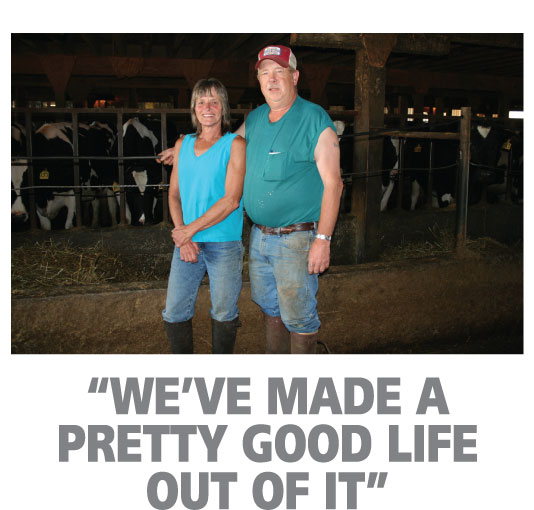 Dennis and JoAnn Love were both born and raised locally – Dennis in Hebo, JoAnn in Beaver. Growing up on a dairy farm, Dennis attended Nestucca High School and worked at the creamery during his summers. He then headed north to college with hopes of becoming a veterinarian. After her graduation from Nestucca High School, JoAnn worked in restaurants, grocery stores and for the school system.
In 1970 the couple married and within six years they had purchased a home and 88 acres to start a dairy for themselves. With Dennis' father's help, the couple began building the farm. "We moved 12 cows from dad's dairy, bought some and raised some," recalls Dennis. Today, Den-Jo Farm keeps a herd of approximately 200 milk cows and 150 heifers and calves.
By 5 o'clock each morning, Dennis and JoAnn are feeding calves, doctoring cows, breeding cows, changing irrigation, cleaning barns, building fences, moving hay and doing field work. At 8:30 each morning they go to the coffee shop to catch up on local news. Generally they work well into the evening. "We do sleep in one day a week," points out JoAnn. "What do you consider sleeping in," I asked her. "Six."
"After 35 years we've kind of paid our dues," explains Dennis. "That's why we can afford two hired hands who allow us to take off every now and then." The dairy's main milker, Jose, has been with Den-Jo Farm for 12 years and lives in the house next door. Jose starts his shifts at 1:30. "AM or PM," I ask Dennis. "Both," he answers.
As a member of the Tillamook Creamery Association, Den-Jo Farm's milk may also be produced into Tillamook cheese, butter, ice cream, sour cream and yogurt. Besides the 26,000 square feet of barns needed to house their herd, the farm requires a fleet of equipment to operate, including five tractors, a manure spreader, a manure wagon, pumps, a field chopper and a cattle trailer. All of the equipment is fixed and maintained by Dennis himself, who enjoys the mechanical aspects of his business.
"A dairy is a fantastic place to raise a family," reflects JoAnn. The Loves have three children, seven grandchildren and one great grandchild. All three of their children helped out on the farm as they were growing up and all three earned college degrees.
Despite having worked on the dairy for 35 years, usually seven days a week, the couple still enthusiastically volunteered in the community. Dennis was a 4-H leader for many years while JoAnn did the 4-H paperwork for him. JoAnn was a Brownie leader and served as secretary of the county Holstein Club. Dennis volunteered for 16 years on the local school board and is the current secretary of the Nestucca Valley Community Cemetery Association. Where does the cow come from that leads the Cloverdale Days Parade most every year? Dennis picks it from the herd at Den-Jo Farm.
These days, having two farm hands has allowed Dennis and JoAnn to have a little more time off. Besides taking vacations, the couple enjoys traveling to Corvallis to attend Oregon State football and baseball games.
Dennis and JoAnn have kept all their personal and business accounts at Oregon Coast Bank since their local Pacific City office first opened. They have very kind words to say about the friendliness of the bank's staff and the service they receive – "I can be driving anywhere in the state and if I see some hay, cows or equipment I need to buy, all it takes is a phone call to Rose (manager of Oregon Coast Bank's Pacific City office)," explains Dennis. "You just write the check, we'll take care of it, she'll tell me." That kind of financial support has allowed Den-Jo Farm to take advantage of significant discounts by locking in grain and hay costs at optimal levels.
Although Dennis and JoAnn are soft spoken about the success of their dairy, it's worth noting that Den-Jo Farm produces about 4 million pounds of milk each year. Unquestionably, dairy farming is hard work. But JoAnn will look you right in the eye and say, "We've made a pretty good life out of it." We couldn't agree more.