EDEN Services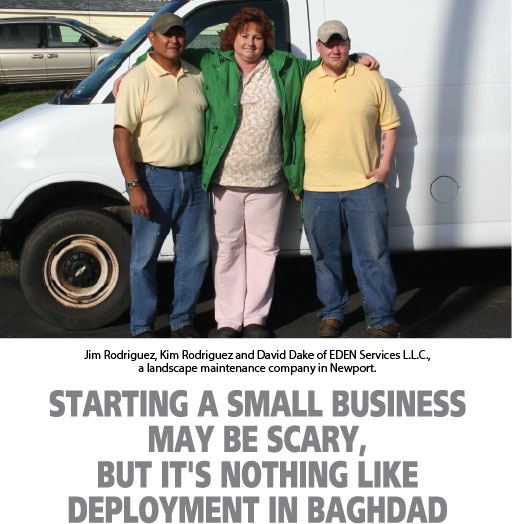 It's his demeanor you first notice.  Talk to Jim Rodriguez, the owner of EDEN Services in Newport, and you'll immediately get the sense that he's very aware of his surroundings and what you're saying.  Rodriguez's demeanor is a direct result of the 26 years he spent in the US Army, including several stints in Baghdad.
Jim signed up for military duty three days before his high school graduation in Yuma, Arizona.  His passions were architecture and engineering.  As he worked for Arizona Emergency Military Affairs, his experience grew from drafting to structural work to grounds keeping.
But military personnel always must be ready to serve in combat zones.  Modest by nature, Jim doesn't say much about his years in the service.  It is clear, however, that the risks he faced were far more severe than anything he would encounter in civilian life, and that experience would eventually make him a cautious but successful entrepreneur.
Jim's first job in the private sector was for a Wyndham Worldmark property in Arizona.  By 2002 he had been promoted to Maintenance Manager of the flagship Wyndham Worldmark property in Depoe Bay.  He learned the challenges of bringing back lawns, shrubbery and flowers in harsh coastal conditions. In July of 2009, after a year of working in maintenance at the airport, Jim and his wife of 22 years, Kim, opened EDEN Services L.L.C., a landscape maintenance company.  The firm provides grounds keeping, algae/moss treatment, aerating, seeding, transplanting, fertilizing, trimming, debris removal, storm preparation & cleanup and general maintenance, such as irrigation adjustments, pressure-washing, window cleaning, gutters and weather sealing for an ever growing client base of residential, commercial and industrial customers.
"We started when the economy was taking a dive, but somehow we've grown every month," says Jim.  That growth is simply a reflection of the company's proficiency and Jim's steady hand as an entrepreneur. "In most cases we'll start with a specific job for a new customer," explains Jim.  "By the time we're finished, most clients have asked us to perform several more tasks."  Basically, anything on a property that needs maintenance or fixing can usually be handled by EDEN.
During the busy summer months, Jim will work as many as 12 to 14 hours a day.  That may sound grueling, but keep in mind Newport is a far easier environment than Baghdad.  Kim performs the scheduling and other office tasks.  "We like the freedom of owning our own business – it is a little scary sometimes, but well worth it," explains Kim.
Ever cautious, Jim is concerned about expansion.  "I don't want the company to become so big that I can't manage the business myself," he comments.  Serving all of Lincoln County and parts of Tillamook County, EDEN Services' client list has continued to grow.  To help serve the expanding workload, Jim and Kim recently hired David Dake, a multi-skilled employee.  Recently retired from the military and back from a year in Iraq, David is remarkably similar to Jim in his demeanor and both have the security clearances necessary to bid on government jobs.
EDEN has provided a wide range of services for Oregon Coast Bank and we were pleased when they recently decided to move their accounts to our Newport office.  "It's more of a family feel banking with Oregon Coast Bank," explains Jim.  "And if we ever need to expand, it's nice knowing that the bank is willing to invest in local companies."
Perhaps it's Jim's military experience, but it's hard to imagine him running a company with anything but success.  All of us at Oregon Coast Bank have been pleased with EDEN Services' work and we're delighted that they've decided to become an Oregon Coast Bank customer.