Family Dental Group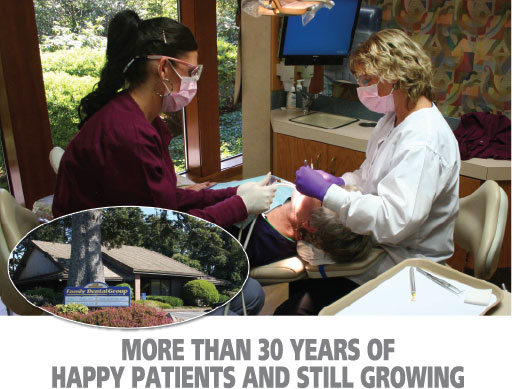 A visit to a dental office typically produces one of two reactions.  If the patient dislikes the experience, they won't return.  But if the experience is positive, they'll often tell their friends and neighbors and become a patient of that dental practice for years to come.  That second reaction must be common for people visiting Family Dental Group of Newport, PC, because the practice now serves a large number of patients and continues to grow every month.
"It's not just locals, we have patients that visit us regularly from Corvallis, Eugene, even Portland," explains Lisa Henton, Office Manager of Family Dental Group.  "In fact, we even have a few patients who reside in Hawaii and come to us to have their dental work done when they're visiting the mainland."
It was well over 30 years ago that Dr. Bruce Richardson and Dr. John Palmer first began building the practice.  In 1983, the large cedar clad building which currently houses the business, was built.  In 2000 Dr. Mark Builder joined the practice, became a partner and eventually purchased the practice and building from Dr. Palmer.  About six years ago another partner came on board when Dr. Katie Gordon joined the practice.
Family Dental Group offers a full array of general dentistry services including cleanings, teeth whitening, exams, full mouth restorations, root canals, extractions, implants, fillings, crowns, veneers and dentures.  Using all digital charts and x-rays, as well as a state-of-the-art Cone Beam CT Scan, the practice can produce 3-D pictures of your jaw and teeth that make it very easy for patients to discuss their options with the dentists.
Pain control, always an important factor for patients, is administered by local anesthetic, nitrous oxide or conscious sedation.  One of the building's benefits is its majestic setting.  All ten exam rooms feature large windows that look out over the forested grounds.  Some of the rooms include skylights so patients can sit back in their chairs and watch branches blowing above.
Both Dr. Builder and Dr. Gordon seem to have excellent rapport with their patients.  "Our dentists truly respect their patients," adds Henton.  "That type of caring attitude extends to our entire staff and is probably why the practice has become so popular."
Although they both work Monday through Friday from 8 am to 5 pm, the partners participate in diverse activities during their spare time.  Dr. Gordon, a mother of two, enjoys camping, cooking and time with her family.  Dr. Builder pursues a full array of sports including surfing, kite boarding, mountain bike riding, skiing and snow boarding.
With such a large clientele, Family Dental Group has grown to a staff of 20 including hygienists, office personnel, assistants and dentists.  Some of the employees have been with the practice from the beginning.
A few years back, when it came time for Dr. Builder to purchase the practice's building from Dr. Palmer, he did so with the help of financing from his local community bank, Oregon Coast Bank.  Both Dr. Builder and Dr. Gordon continue to be Oregon Coast Bank customers.
Generally it takes a compassionate attitude, state-of-the-art equipment and outstanding care for a dental practice to thrive.  Family Dental Group is certainly a practice that fits that description.  To have grown to serve so many happy patients is quite an achievement for any practice.  To do so in a medium-sized community is rare.  All of us at Oregon Coast Bank salute Family Dental Group and are proud to have played a small part in their success.