Garibaldis Bay Market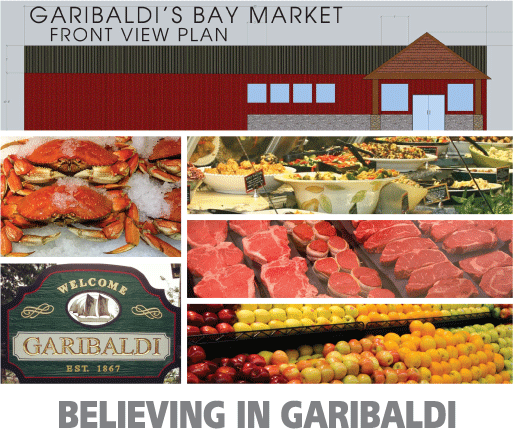 There's been a grocery store along Highway 101 in Garibaldi for at least fifty years now. Take a glance inside today and you'll see that a transformation is taking place.
Although the store remains open, construction is well underway and will continue until November. Refrigeration and the service deli are growing. The dairy department is expanding by 40%. Baked goods, hot sandwiches and local seafood are being added. Selection throughout the store is increasing, especially the fresh produce.
What aren't growing are local residents' grocery bills. Prices on over 2000 items were reduced in early August. Each week several hundred more items are put on sale. The goal is to provide a competitively-priced, modern, full-service grocery for Garibaldi so that locals won't need to drive out of town to do their primary shopping.
Gunnar Monson is excited for his community. Monson, who owned and operated Food Basket Market Place for the past 18 years, recently sold the business to Don Sheeley and his wife Debbie Boone. Don and Debbie are certainly not new to the coast or small Oregon towns. The entrepreneurial couple has been purchasing, remodeling and successfully operating businesses and housing projects for the past 14 years in Pacific City, Cloverdale, Neskowin, Lincoln City, Jefferson, Scio, Roseburg and Dallas.
Renamed "Garibaldi's Bay Market", the store currently employs 11. Employment is expected to increase by about 40%. That's not counting all of the local construction trades people who are working on the $400,000 store makeover.
Understanding the importance of the store to the community and the need for continual local management, Don and Debbie asked Garibaldi residents Roger and Barbara Cooper to partner with them on the project. Roger, who has been in the grocery business for decades, serves as Manager of Store Operations.
Don isn't new to the grocery business either. Up to the age of 38, he was a butcher who worked his way up to Supervisor of the Meat Departments for Zupan's Markets. He then accepted an executive position at Unified Grocers. Since becoming entrepreneurs, Don and Debbie have purchased and revitalized four other small town grocery stores.
"We believe in Garibaldi, so do Roger and Barbara," explained Don. "That's why the four of us made the investment and why we're putting in so much additional sweat equity." "We're working as hard as we can to bring this town the best little grocery at the beach," adds Roger.
When it came time to finance the purchase and remodeling of Garibaldi's Bay Market, Don made just one phone call. In his own words: "We've developed a trust factor – Oregon Coast Bank has always taken an interest in what we're doing and provides the financing necessary." Having a full service Oregon Coast Bank office nearby at the north end of Tillamook was also important to him.
For Don, the rapport he has with his bankers at Oregon Coast Bank is just as important as the financing. "They believe in the coast as much as we do," he explains. "They aren't some chain bank that comes and goes. Oregon Coast Bank continues to loan hundreds of millions of dollars to families and businesses up and down the coast. With one phone call, they were here on site with us in Garibaldi making things happen."