Great Western Corporation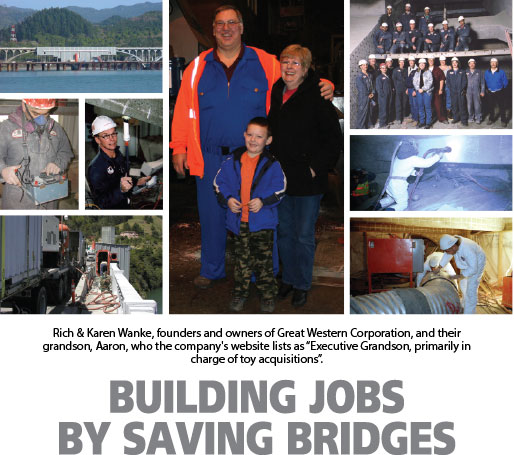 Using technology so advanced that the company has been featured in a "Modern Marvels" television segment on the History Channel, Great Western Corporation has saved historic bridges in Oregon, Washington, Alaska, Hawaii and Virginia.  Perhaps even more importantly, the South Beach based company has created approximately 40 jobs and provides complete training for its workforce.
Despite the scale of its projects, which often exceed $10 million, Great Western Corporation is essentially a family business.  Rich Wanke, President and CEO, became a full time contractor in 1971.  As a working superintendent in a variety of trades, including sandblasting, coatings, electrical, welding, fabrication, pipe fitting as well as concrete and steel repair, he's now considered a world authority on cathodic protection.  Rich's wife Karen has performed the company's accounting and office management functions since the beginning.  Their daughter, Kellie Hanks, is the company's vice president and also serves as quality and efficiency control specialist, EEO, and safety officer.  She also performs all in-house CAD (computer aided design).  Rich and Karen's son, Kevin Wanke, is the company's transportation and equipment specialist.  As a true family business, Kevin's son Aaron is currently listed on the company's website as "Executive Grandson, primarily in charge of toy acquisitions".  As the photo above depicts, Aaron may be a bit young for the construction industry, but his dad and aunt started to learn the business at about the same age.  In fact, the Wankes jokingly refer to themselves as "trolls", a family who lives in RVs underneath bridge construction projects.
Cathodic protection is highly technical, but in laymen's terms here's how it works.  The process is used to greatly increase the lifespan of concrete bridges in geographic areas where corrosion of the bridges' rebar is likely.  In coastal environments, salt-laden air and moisture often can reach rebar through the porous concrete.  This leads to corrosion and as the rust grows on the rebar, it pushes the concrete outward where it can crack or blow away.  Of course rebar can also rust to the point that it no longer supports the weight of the bridge.
When Great Western Corporation first arrives on a job, trained workers inspect every inch of the bridge to detect delaminated concrete.  Using a hammer, sound reveals the condition of the understructure.  Damaged concrete and rebar are soon replaced.  The actual cathodic protection is basically an electrical process that allows a 99.99% zinc coating to be applied.  Using the existing steel rebar as the negative and the zinc coating as the positive, bridge personnel can then electronically monitor the structure to continually examine for corrosion potential and apply adequate power into the system to prevent future corrosion.
As complicated as that all sounds, imagine what it takes to accomplish it.  In order to prevent any environmental damage and to control the temperature and humidity so that the zinc coating can be properly applied, Rich and his crew have had to design massive "environmental enclosures".  In fact, at approximately 185 feet long and up to 135 feet high, the company's current environmental enclosure is the largest functioning equipment of its kind on planet Earth.  Adding to the challenge, the 700,000 pound behemoth must be movable over the varied elevations of the bridge and transportable to other projects.  It took more than 40 truckloads to bring the equipment to the company's current project in North Bend.
Having invested more than $30 million into specialized equipment, a strong banking relationship is essential for Great Western Corporation.  On the recommendation of a friend, Rich and Karen first contacted Oregon Coast Bank to discuss their banking needs.  "We asked them if all their decisions were made locally," remembers Rich.  "We weren't interested in dealing with the bureaucracies of a chain bank."
It's been a great relationship.  Oregon Coast Bank provides checking, savings, equipment loans and an operating line of credit.  Great Western Corporation has continued to grow and the company has had a very positive impact on our coastal economy.  We're just proud to be their bankers.