Holy Toledo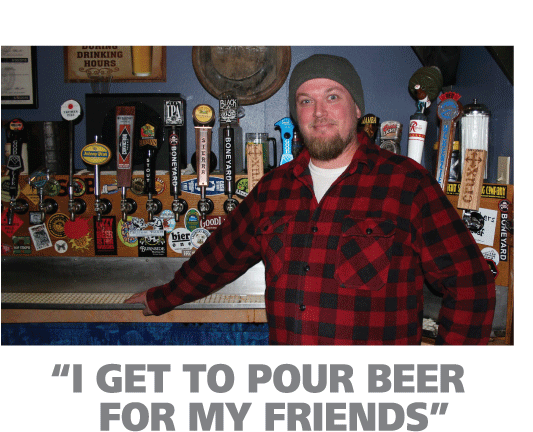 A confession. I could be accused of loving Oregon craft brews a bit too much. So for me, talking with Erik Zakariassen, the proprietor of Holy Toledo, was somewhat of a religious experience. The guy knows his beers and micros are his passion.
Holy Toledo is one of those taverns inseparable from its location. Fishermen, loggers, artists and old timers line the bar. Empty stools are hard to find when the shift changes at the mill. It's not just men. Couples and single women are shooting pool, throwing darts, and very apparently having a good time.
How Erik and his wife Heather Lamonte came to own the tavern, in fact how they came to Toledo, is quite a story in itself. They both grew up in California's bay area. She entered the medical field, while Erik learned to weld working on an almond ranch.
In 2002 they moved to the New Orleans area. A couple of years later, when Katrina hit, the home they were renting was torn apart. Fortunately, they had heeded the storm warnings and evacuated. The news reports said that it would be months before they could return, so the couple decided to spend some time with Heather's grandmother in Lebanon, where they fell in love with the Pacific Northwest.
Eventually, they returned to Louisiana and worked virtually nonstop to, as Erik recalls, "bank as much as possible so we could move to Oregon." When Hurricane Rita hit, it was the last straw, so they packed their remaining belongings and headed west.
Driving towards Newport for a camping vacation at Beverly Beach, Erik and Heather put much of their belongings in a Toledo storage unit. A sign on Main Street advertising "The Coldest Beer in Town" was their first invitation to the Holy Toledo. There they struck up a friendship with the bar's longtime owner, Jackie Kauffman.
Soon Erik got a welding job at a local boat yard and Heather went to work in the medical field. They found an apartment in town and virtually every day the couple would stop in at the Holy Toledo for a beer after work.
In jest, Jackie would continually offer to sell the tavern to Erik and Heather, but they never took her seriously until Erik's employment became part time. Facing the prospect of constant travel as an independent welder, Erik started to like the idea of "not burning myself every day." After much thought they came to an agreement with Jackie and purchased the Holy Toledo.
That was about five years ago. Although Erik remains a one-man staff, Heather or "a few good friends" will cover for him when he travels to beer shows. Heather works fulltime at Servco Pacific in Newport, specializing in commercial marine insurance.
"Eighty percent of the time being a business owner is an awesome experience," laughs Erik. "Twenty percent of the time you'd rather go back to punching a time clock." But owning the Holy Toledo has its advantages – "I get to pour beer for my friends," he explains.
Behind the bar are 18 taps; the fact that 16 of those are craft brews says a lot about the Holy Toledo. IPAs remain most popular, but craft German-type lagers and pilsners are well represented. "The guy that drinks Hamm's at home wants to try something good here that doesn't smell like a pine tree," points out Erik. "That's why we're pouring more reds and ambers these days."
Erik personally selects all the handles and his patrons continually ask for his recommendations. What he won't serve are brews made by massive international beverage conglomerates, who he feels are trying to edge out small craft brewers. "People get sick of yellow fizzy beer," he says.
These days, word spreads online when a tavern has a particularly strong craft brew list, and Holy Toledo often attracts visitors to town. "The tourists are great for business, but we remain indebted to our locals," answers Erik, pointing towards the photos behind the bar of Toledo residents.
Holy Toledo has been an Oregon Coast Bank customer since the day we opened our Toledo office. Erik and Heather also do all their personal banking at Oregon Coast Bank, which leads to Erik's only objection. "We have a new puppy," he explains. "Our friends at the bank are apparently as fond of it as we are – it takes me forever to get out of the bank each time the puppy and I visit."