Jim Holt Timber Cutting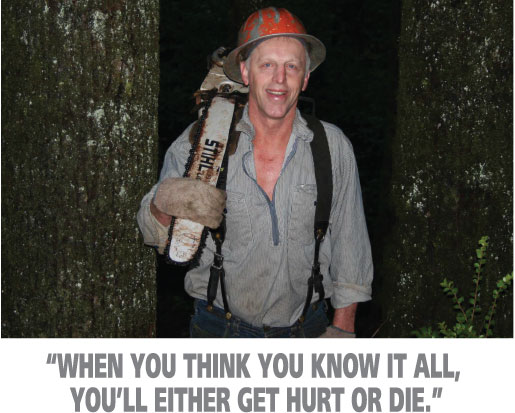 Jim Holt's great grandparents moved to the coast in 1911, settling in Harlan where they opened the post office.  By 1921 they had moved to the Beaver Creek area north of Waldport and started the family farm, where Jim grew up and raised his own family.
His dad was a log truck driver and Jim grew up helping his father fix and maintain the rigs.  He considered becoming an accountant, but the lure of working in the woods was far more appealing.  Jim graduated from Waldport High School on a Friday night in 1973 and started setting chokers with a logging crew the following Monday.
For seven years he worked his way up through various rigging jobs until 1980, when he started working with timber cutters.  Back in those days most of the cutting was in second growth timber, which required "a set", both a timber faller and a bucker.  After two years as a bucker, working with some of the coast's most respected timber fallers, Jim was able to advance to a faller himself.
As the owner operator and sole employee of Jim Holt Timber Cutting, Jim is now nearing his 40th year in the industry.  Because of his experience and safety training, he understands how dangerous an occupation timber falling can be.  "When you think you know it all, you'll either get hurt or die," he explains.  On various occasions over the years, he's been hit by falling limbs, some large enough to be described as "widow makers".
"I was fortunate enough to have a major accident when I was just 22 years old," remembers Jim.  "When you're young you heal up fast."  That was in 1977 when a log pinned him against a root, resulting in internal bleeding.  Jim credits the surgeons, including Dr. Richard Beemer, for saving his life.
Timber cutters are expected to be on the site at daylight and will generally saw for six hours.  Although the size of the trees and the terrain do vary, it's not unusual for Jim to cut up to an acre and a quarter of timber in one day.  Jim has fallen timber as far south as Gold Beach, as far north as Clatskanie, and as far east as Sweet Home.
A timber cutter is only as efficient as his equipment.  Jim owns 10 Stihl chain saws, with bars ranging from 28 to 60 inches.  Generally he takes three with him on the job, while seven await repair in his shop.  Like any crop, the trees Jim cuts today are sustainably harvested for optimal yield.  These days the trunk widths are typically smaller, but Jim has cut doug firs as wide as nine feet six inches and cedars as wide as ten feet.
What does Jim enjoy most about the profession?  "I've always liked being outdoors.  You see something new on the job every day, including wildlife like elk, deer, bear, coyotes and bob cats."  One of the drawbacks of logging is how difficult it is physically.  "I'm 57 and my body is about done," says Jim, who now walks with a noticeable limp.  "We don't get paid enough to wear out our bodies so young."
He also laments the fact that logging has such a negative connotation with some segments of the population.  "We're harvesting a sustainable resource and providing an essential building material," Jim explains, "except we've been demonized by some folks for so many years."
Jim and his wife Connie have been married for 36 years.  "I feel fortunate to have raised my three kids on the same farm I was raised on," he says.  The Holt children, Jodie, Holly and RJ are all graduates of Waldport High School.
Jim and his company have been customers of Oregon Coast Bank since we first opened more than 10 years ago.  He considers the advantage of community banking to be the people – "If you need something you can talk to them and they'll work it out," he explains.
All of us at Oregon Coast Bank feel highly about Jim, too.  Logging is one of the coast's most essential industries, and close to 40 years in the timber business is quite an accomplishment.  In fact, it's working with people like Jim that makes us proud to be community bankers.