Jones Excavation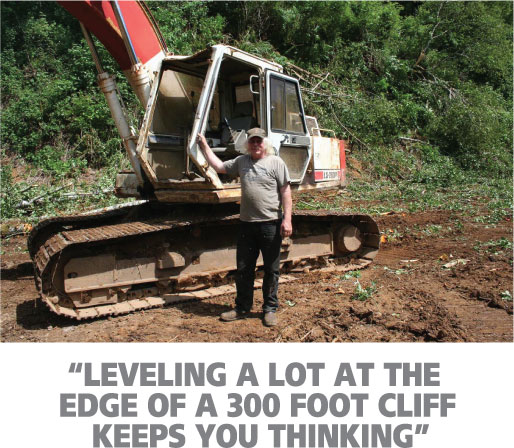 Darcy Jones grew up in the Cloverdale – Pacific City area. It was his dad, Ray, who started Jones Excavation 39 years ago. Darcy joined the company a couple of years after graduating from Nestucca Valley High School and took over the business in 1992. These days his son Keegan is also employed by the company.
There's an art to operating an excavator, and watching Darcy shape the landscape can be fascinating. There's also an element of danger. "Leveling a lot at the edge of a 300 foot cliff keeps you thinking," points out Darcy in his typical understated manner.
Besides lot clearing and leveling home sites, Jones Excavation does demolition, digs sewer and conduit lines, builds roads and driveways, and performs subdivision work. The company also operates rock pits in Woods and Sand Lake.
Over the years, licensing and permits have become more and more time consuming. Darcy's wife, Donna, handles most of the paperwork. Families who work together have to get along, and the Jones family obviously does. "Working with dad was easy," recalls Darcy, "but I have to bite my tongue a little with my son. Of course that's probably what dad did, too."
The Jones Excavation fleet now includes a road grader, two frontend loaders, a rock crusher, several caterpillars, and three excavators. Monthly fuel costs alone exceed $5000. "If you own it, you better take care of it", explains Darcy. A sixty hour work week can often include twenty hours of maintenance. Currently a 3-person family business, Jones Excavation employs additional staff during busy building cycles.
Darcy and Donna live on 40 acres in Hebo with about a half mile of river frontage. A few days back, their 5-year old grandson hooked his first steelhead. It was nip and tuck for about 15 minutes, but eventually the fish tired and it was another Jones who was truly hooked.
Jones Excavation has been a customer of Oregon Coast Bank since we first opened our Pacific City office about ten years ago. Darcy and Donna call their visits to the bank "nice and friendly" and enjoy the opportunity to catch up with old friends. Darcy also appreciates the fact that when he needs a loan to buy additional equipment "I can just talk to Rose", who manages the branch.
It's entrepreneurial family businesses like Jones Excavation that keep our coastal economy vibrant. We respect their hard work and appreciate that they've chosen to bank with us.