K & K Toilet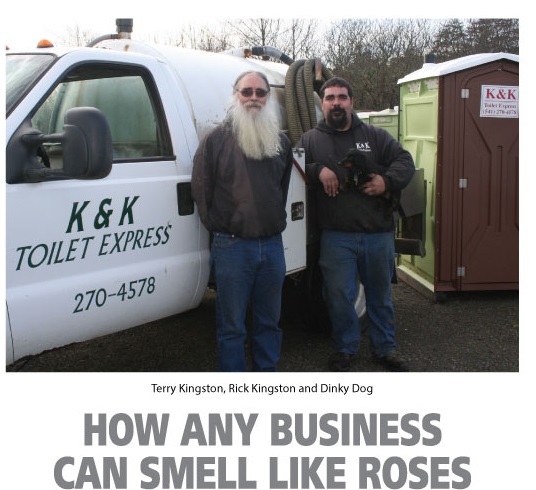 As businesses go, this one is as recession-proof as it gets. No matter how much the economy fluctuates, portable toilets remain somewhat of a necessity. That's not to say that operating a portable toilet business is an easy job.
Father and son Terry and Rick Kingston are the owner-operators of K & K Toilet Express. During peak seasons, Terry and Rick often work 70 hours a week delivering, picking up and servicing portable toilets throughout Lincoln County and into Lane and Benton Counties.
With about 250 portable units, K & K supplies toilets for a diverse clientele including construction sites, mills, state parks, community events, family reunions, even to homeowners with plumbing problems. Toilets and portable wash units can be rented by the day, month or annually. In addition, K & K provides a valuable service by emptying refuse tanks for RV owners. The company also sells new and used portable toilets to businesses and individuals and then services them.
Terry and Rick were both born and raised in Lincoln City. Terry and his wife Terry (no, that's not a typo) have six children and now proudly spoil ten grandchildren (including Rick and his wife Shelly's two children). Terry the husband, worked for 31 years in Lincoln City's Wastewater Department. Rick previously worked for Quade Commercial Construction. Terry plays baritone sax with the Lincoln Pops Big Band. Rick has volunteered as a youth baseball and football coach. Both father and son enjoy fishing, hunting and riding their motorcycles.
Terry and Rick are quick to point out that without Oregon Coast Bank, there may never have been a K & K Toilet Express. Given the chance to purchase the business (which had operated for 19 years under the name M & E), Terry and Rick were frustrated when several chain banks showed little interest in their business venture. On the advice of friends they contacted Oregon Coast Bank and quickly obtained the financing to purchase the business.
Today all their personal and business accounts have been moved to Oregon Coast Bank, which also provides a credit line that allows K & K to purchase more units as the business continues to grow. "They're easy to talk with and they're always there to help us out," comments Rick. "What more can you ask for from a bank?"
Terry and Rick's success proves that through hard work and great customer service any business can smell like roses. All of us at Oregon Coast Bank are proud to be their bankers.