Marine Discovery Tours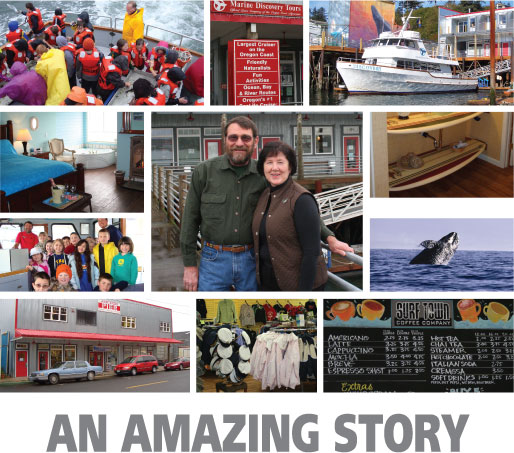 A story as fascinating as this one needs a little background, so here goes. Don Mathews grew up inland, working on his family's McKenzie River dairy farm from an early age. During the 70's he migrated to the coast and became a commercial fisherman. While fishing in Alaska during the 80's, he fell in love with Fran, a marine journalist and resident of what some refer to as "Northern Newport" – Kodiak Island. Soon they were married and raising a family, with Don at the helm, long lining & crabbing the West Coast from the Bering Sea to San Francisco.
In 1992, Fran and Don moved to what they considered to be "the best harbor on the west coast" – Newport. As Don continued to crab, Fran began networking with local business, science center & aquarium neighbors to develop their new venture, Oregon's only marine education tour. By 1994, they had acquired a 65-foot fishing charter boat and renamed it The Discovery.
True believers in "buying local", Don and Fran hired Riverbed Shipyard to convert The Discovery, based on Don's innovative plans. Thanks to the hard work of the expert shipyard team and Don's knowledge of vessels, the renovation of The Discovery was completed in less than three months. By summer they had opened for business in what they now fondly remember as a "dumpy shack" on property they had purchased on Newport's Bayfront.
The couple was convinced that the key to their business was finding the right mix of education and fun. Soon their staff of friendly naturalists were inviting their passengers to pull crab pots, tow plankton nets, help navigate the boat, while getting the latest fisheries updates. These days, The Discovery's cruise route seeks the calmest conditions, from the near shore Pacific Ocean to gliding through the 4,000 acres of Yaquina Bay and River.
Fran and Don are quick to credit their staff (which numbers up to 15 employees during peak months) for the success of their tours. In fact, it's not unusual for their naturalists to get fan mail. Each year Marine Discovery Tours' cruises include more than 7,000 students, tour bus groups, vacationing families, weddings, dinner cruises and Ashes at Sea. The company is now recognized nationwide and has received various awards for its community support, including Oregon's Tourism Industry Awareness Award. Marine Discovery Tours has also earned the title of Official Cruise Company of the Oregon Coast Aquarium.
During 2006, in an effort to provide year round employment for their staff, Fran and Don replaced their "dumpy shack" on the Bayfront with a 6,000 square foot multi-use building they named Anchor Pier. Clad in galvanized siding as a salute to their waterfront heritage, Anchor Pier now houses Marine Discovery Tours, a retail store, a coffee house and vacation rentals. With coastal themes, the spacious suites of Anchor Pier Lodge feature fireplaces, spa tubs and balconies with fabulous bay views.
Anchor Pier was built with financing from Oregon Coast Bank, but that's just part of the relationship that Fran and Don have with their community bank. The Mathews consider their bankers to be valuable business mentors. Don calls Oregon Coast Bank "one of our most important business assets". Fran says unabashedly, "How many people in the big city hug their bankers? That's our standard greeting!"
It is quite an amazing story. Using a "get it done" style from their fishing days, Fran and Don simply imagined and then created viable and thriving businesses. The success of Marine Discovery Tours and Anchor Pier is a direct result of their founders' vision, energy and hard work. We're proud to be Fran and Don's bankers and we do appreciate the hugs.