Menefee Dairy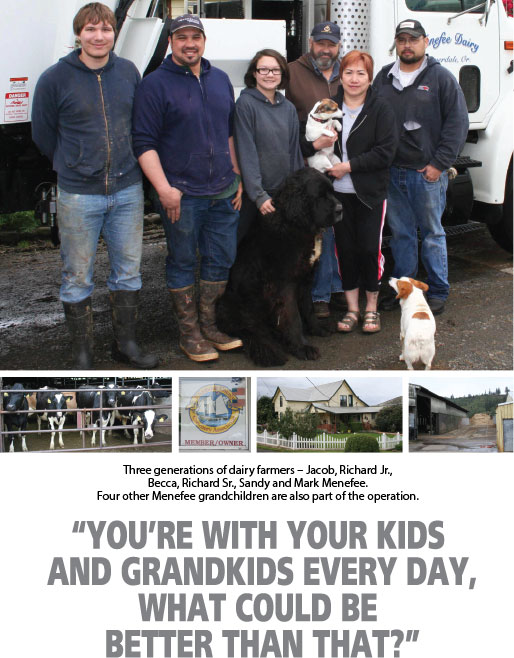 His grandfather had been a dairy farmer, so when Richard and Sandy Menefee first bought a 500 head dairy farm in Riverdale, California they knew a bit about what to expect.  Years later, visiting a friend on the central Oregon coast, they fell in love with the area and thought it would be an ideal place to raise their family.  They sold their Riverdale operation and in 1994 Richard and Sandy purchased John Love's dairy farm in Cloverdale and have operated it ever since.
Menefee Dairy has a herd of about 1,000, the vast majority Jerseys, the rest Holsteins.  It's very much a family operation.  "We were very fortunate that our sons were interested in the business," explains Richard.
"Long days are just a part of farming," says Richard, who typically begins his work day at about 5:30 am and usually finishes between 7:30 and 9:00 pm.  Sandy does the bookkeeping and a wide array of farm chores.  "It's a seven day work week," points out Richard.  "We all get to take some days off, but never at the same time."
The opportunity to become members of the Tillamook County Creamery Association was one of the reasons the Menefees originally came to Cloverdale.  "We may not agree on everything," explains Richard describing the association membership.  "But we all seem to get along."
Sandy and Richard's love of gardening is very apparent when folks first arrive at Menefee Diary.  It's not unusual for tourists driving by on Highway 101 to stop and snap a picture of the bucolic dairy grounds.
The operation employees nine people on a full time basis  The full time staff includes family members Richard SR, and Sandy, as well as their sons Richard Jr., 37, and Mark, 34.  Everyone involved takes pride in being part of this family owned business.  In fact, of those nine full time employees, every single one, including the non-family members, rent housing at the Dairy.  Richard and Sandy have six grandchildren, three who live on the farm, and the grandchildren have also become involved in the dairy's operation.
The Menefee family, Menefee Dairy and the dairy's employees have been customers of Oregon Coast Bank since the bank first opened its Pacific City Office in 2004.  "With all those friendly faces, I just love going there," laughs Richard.  "We think the most important part of a bank is the people who run it."
Ask Richard what the best part of owning a dairy is and he'll tell you: "family – you're with your kids and grandkids every day, what could be better than that?"  It's been our observation that hard work generally makes for strong families, and watching three generations of Menefees side by side certainly illustrates that point.