Mike's Pharmacy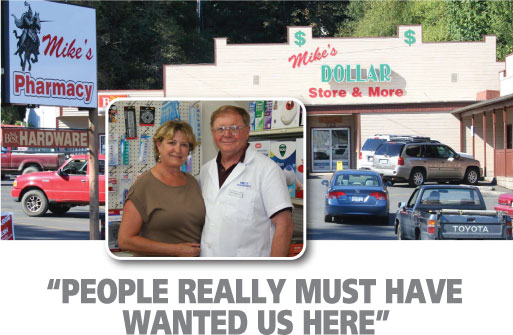 While attending Oregon State University as a microbiology major, Mike Knight started to notice something – none of the microbiology graduates were getting jobs. Quickly, he switched his major to the pharmacy program. Today, after 41 years as a registered pharmacist, Mike realizes that he made a good choice.
In 1976 Mike purchased Pacific Pharmacy in Toledo and successfully operated it for 28 years. Business owners in small towns often have to offer additional services to survive. Mike's wasn't just the local pharmacy, the store offered hardware, video rentals, gifts, film developing, U-Haul rentals and a state liquor outlet.
In 2006 Mike accepted an offer from RiteAid and sold the pharmacy, but he kept the building. He also sold the hardware store to his hardware manager, David Schultz, who still owns the business today. RiteAid soon moved all of its Toledo area prescriptions to Newport.
Although selling to RiteAid was a good move financially, Mike gradually realized that he wasn't cut out to be a chain store pharmacist. "I guess I'm an independent in my soul," he explains. "The way the big boxes treat their customers didn't sit right for me." He also had underestimated how much having a pharmacy in Toledo meant to East County residents.
It's a bit of an understatement to say that Mike has been active in the Toledo community. He served as chairman of the Toledo Summer Festival three times. He's been Elk of the Year. He's been the chairman of the Chamber of Commerce. He was the founder and continues as a member of T.A.G., the Toledo Active Group. These days Mike still serves in the Lincoln County Sheriff's Posse and is the chairman of the Olalla Center for Children and Families.
Being active in the community meant he was always running into his neighbors. Not a day went by without Mike being told: "We wish there was still a pharmacy in Toledo." Pharmacies depend on having doctors in the area and when Samaritan Health Services opened a Toledo clinic, Mike knew that the need for a local pharmacy would only increase.
Eventually Mike talked to his bankers at our Oregon Coast Bank Toledo office and mentioned that he was considering opening a new pharmacy in the local building he still owned. The bank agreed to finance the project and in June Mike was back behind the counter filling prescriptions for his Toledo area neighbors.
"People really must have wanted us here," he says. That too is an understatement. In just its first 11 weeks of business, 550 people walked into the store and asked Mike to have their prescriptions transferred in from big box and online pharmacies.
"Because we're small and independent we can process prescriptions faster, without the lines," explains Mike. "We charge the same as the big boxes 99% of the time and if something isn't in stock our wholesaler delivers to us within 24 hours." Of course most customers understand that the real advantage of having a local pharmacy is the relationship they have with the pharmacist. Mike has filled prescriptions for five generations of some local families.
Besides the pharmacy, Mike and his staff still operate Toledo's state liquor store, but these days the building is also home to another business. His wife Kathleen serves as the manager of Mike's Dollar Store & More.
Before opening the business, which was also financed through Oregon Coast Bank, Mike and Kathleen spent a considerable amount of time researching what type of store would best serve the community. Dollar stores have expanded rapidly throughout the nation. As an independently owned Dollar Store & More, Mike's offers hundreds of quality products for just a dollar, often displayed right next to conventionally priced name brand items. Potato chips, greeting cards, jewelry, cold drinks and paper goods are among the store's most popular items priced at only a dollar.
As the stores have grown, so have their staffs. Mike's businesses now employ seven and additional hiring is expected. Most importantly, East County residents no longer have to waste time and gas traveling to Newport to have their prescriptions filled, which is particularly helpful for seniors.
Mike and Kathleen have been customers of Oregon Coast Bank since we first opened our Toledo office and always enjoy visiting with our staff. Mike does have solid advice for entrepreneurs: "Financing a business is a two-way street. You want to be able to look the decision-maker in the eye when you ask for a loan. I can do that at Oregon Coast Bank."