Nestucca Ridge FOC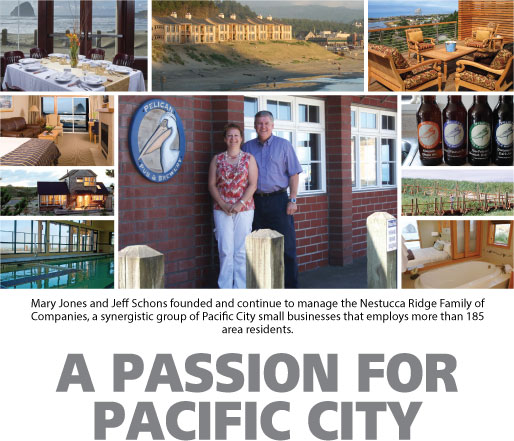 Mary Jones and Jeff Schons are both native Oregonians, born and raised in the Portland area. It was in 1990 that they decided to "temporarily" spend the winter in a 700 square foot fishing cabin on the Big Nestucca River in Pacific City. Soon they had fallen in love with the area and chose to make it their home. In the twenty years since, Mary, Jeff and a host of other local leaders have helped Pacific City grow into the vibrant community it is today.
As the owners of the Nestucca Ridge Family of Companies, a synergistic group of Pacific City small businesses, Mary and Jeff employ more than 185 people. Every job is important to the community, but 185 is a particularly impressive number considering the fact that Pacific City's fulltime population is only about 1200. Perhaps even more significant is that many of the jobs that Mary and Jeff have created are full time with a generous package of benefits including health insurance, vacation pay, flex time and a 401k plan with matching contributions. In addition, almost all of Pacific City's businesses have benefitted from the visitors that the Nestucca Ridge Family of Companies has brought to the area.
Mary and Jeff's first Pacific City project was Nestucca Ridge, an aesthetically pleasing 35-acre subdivision including 118 homes. The project rapidly sold out in three phases. Soon they were offered the chance to purchase an old, long-neglected ocean front building overlooking Cape Kiwanda. The couple quickly purchased it, despite having no specific plans for its use. One evening while pondering ideas in their cabin, they decided that the building would make a perfect brew pub. Unfortunately, neither Mary nor Jeff had any prior restaurant or hospitality industry experience. Undeterred, they enthusiastically began planning. Attending a brewer's convention in Portland, they met and eventually hired Darron Welch, a native Oregonian passionate about brewing but somewhat short on experience. Pelican Pub & Brewery opened in May 1996, and since then has been named Brew Pub of the Year three times at the Great American Beer Festival. Serving more than just brew pub fare, Pelican Pub & Brewery is known for their fresh seafood and even serves breakfast. Welch and his staff have won countless awards for their beers, which are now also bottled and distributed throughout Oregon.
In 1998, Mary and Jeff opened Inn at Cape Kiwanda, an ocean view boutique hotel that has consistently garnered rave reviews from guests and travel writers. The property's 35 rooms, some with Jacuzzis, feature fireplaces, mini bars, upscale finishes and even down comforters. On the lower level of the Inn at Cape Kiwanda is another of the couple's businesses, Stimulus, a thriving ocean view espresso café popular with locals, visitors and surfers for their lattes, French press coffee, fresh pastries and sandwiches. Located next to Mary and Jeff's offices at Nestucca Ridge Development is another business they founded, Nestucca Ridge Storage, which offers 160 heated and unheated indoor storage units in various sizes.
Mary and Jeff also developed Shorepine Village, a vibrant community of vacation ready, traditional beach homes designed in harmony with the natural environment. The project, which sold out in 2006, won a multitude of architectural awards for its environmentally-friendly development. Today, Shorepine Vacation Rentals provides property management services for about 40 of the homes. In addition, Shorepine Properties is a full service real estate brokerage serving the entire Pacific City area.
The couple's current real estate offerings include Pacific Seawatch, a master plan community with a clubhouse, indoor pool, Jacuzzi, weight room, even a nine hole putting course. The project is visually stunning with panoramic views of the Pacific, Haystack Rock and the Big Nestucca River. Also popular are The Cottages at Cape Kiwanda, which offer fractional, deeded ownership opportunities of exquisitely designed new cottages a mere 20 steps from the beach.
Running so many businesses could seem all consuming, yet Mary and Jeff remain very involved in the Pacific City community. Both are founding board members of the Pacific City Community Center and Mary currently serves as President of the Chamber of Commerce. In fact, the couple has made community involvement a foundation of the culture of the Nestucca Ridge Family of Companies.
Passionate boosters of their community, Mary and Jeff are even enthusiastic about their local Pacific City bank, Oregon Coast Bank. "They've actually asked us, What can the bank do to help your businesses be successful?", explains Jeff. "Banks don't usually act that way." All of Mary and Jeff's business accounts are now with Oregon Coast Bank, which has also provided a variety of financing for projects and equipment. "They're like a partner," points out Mary. "It's a straight up, honest, open business relationship."
As extensive as their accomplishments are, Mary and Jeff remain humble and down-to-earth, crediting the majority of their success to their employees. It is, however, important to remember that like all entrepreneurs, Mary and Jeff have continually accepted risk. As a result, Pacific City has prospered. All of us at Oregon Coast Bank admire their vision and willingness to learn new businesses. We feel fortunate that Mary and Jeff also believed in our bank.