Northwest Ductless Heat Pumps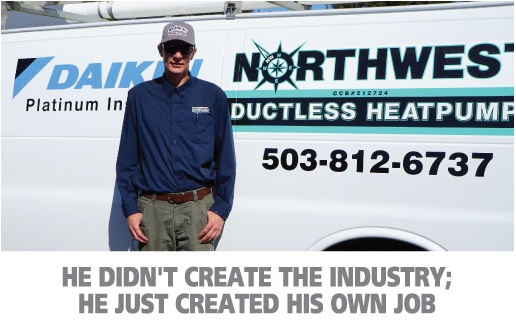 Growing up in Hebo and Beaver, Gary Johnson always knew that he wanted to stay on the coast. After graduating from Nestucca Valley High School he worked as a cell phone tower installer for five years. But family-wage jobs can be scarce in rural areas, so Gary also worked at the mill, did some welding, lot clearing and tree falling.
Along the way, he recognized that ductless heat pump systems were gaining in popularity, but not readily available on the coast. So he applied for an apprenticeship at The Heat Pump Store in Salem. As luck would have it, just as he finished the program, the company decided to open a new store in Tillamook. Gary was named the installer for an area covering from Astoria to Newport.
In an effort to cut costs, the company decided to close the Tillamook store after just a year, asking Gary to transfer to either their Portland or Eugene facility. But having witnessed firsthand customers' appreciation for their new ductless systems, Gary decided to stay at the coast and become a contractor himself.
Besides the need for a state license, heat pump contractors must be bonded and insured. Setting himself up in business took a considerable investment and several years, but Gary's company, Northwest Ductless Heat Pumps, has been swamped with business since day one.
Modest by nature, Gary is the first to tell you that he certainly didn't create the industry; he just created his own job. Ductless systems were first developed in Japan during the 1970s. Over the years, they became the preferred heating and cooling option throughout Asia and in many parts of Europe. In the United States, however, where relatively low-cost electric power was more abundant, ductless systems didn't emerge until about 20 years ago.
Because of their energy efficiency, electric utilities now offer lucrative incentives for home owners and businesses to install the systems. The technology can provide even more savings in buildings of significant square footage. Gary is frequently asked to install his systems in churches.
Now mandated by building codes in the state of Washington, ductless heat pumps, which provide heating and cooling in one system, are becoming more and more prevalent in Oregon, for a variety of very good reasons. They're safe, long-lasting, easy-to-operate and quiet. Besides the lure of a rebate check from their local utility, most consumers chose their ductless systems in an effort to lower their monthly electrical costs.
Through recommendations from his customers, Gary's phone rings often. After visiting a home or business, he'll design the most efficient system on his computer before presenting a timeline and budget. To assure quality, Gary has to this point chosen to run Northwest Ductless Heat Pumps as a one-man operation. That means that he often works seven days a week, from 5:30 am to as late as 10 pm. On more than one occasion he's worked three months without a day off.
Gary and his wife, Sadie, who works at Bayshore Family Medicine, are the proud parents of a daughter and son, Avery and Logan. Each time he's able to take his children trolling for salmon within minutes of his family's home, he realizes what a good decision it was to invest in his own business.
He's also quick to thank his bankers for going "the extra mile" to help get his business established. As a new company three and a half years ago, Gary's firm hadn't yet established credit. So each time he needed to order equipment from his suppliers, he'd first call his local Oregon Coast Bank office, to temporarily raise the limit on his debit card. This continued on a regular basis until his suppliers recognized that his company was a sound business. Of course had they known Gary for most of his life, as our bankers did, they would have recognized that fact right away.