OceanQuest Homes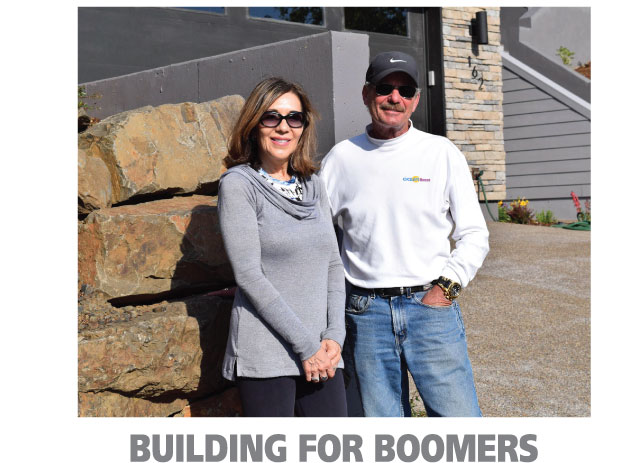 Having built homes for them for decades, and perhaps because he's within the age group himself, Kevin Kass understands the evolving needs of baby boomers. In Kevin's words, the floor plan of a custom beach home for a retiring boomer should be: "open, open, open". But well heeled boomers want even more. A great view is essential, as are luxury amenities like high-end appliances and natural stone countertops. Kevin's customers always want plenty of storage, and in a concession to age, they want everything on one floor.
A successful high-end builder in Albuquerque, Las Vegas and Scottsdale, Kevin and his wife Roseanna, an interior designer, came to Otter Rock in 2010 to build a custom beach home of their own. It was a particularly rainy winter. Yet in Kevin's words, "once we grew our duck feet, we fell totally in love with the area." They also liked becoming part of a community where "everyone knows everyone."
Not only did they stay, but Kevin and Roseanna soon began building other custom homes in the area. Today, OceanQuest Homes of Otter Rock has four full-time employees and provides consistent work for several other licensed local subcontractors.
OceanQuest Homes is a design-build contractor, providing a full array of services from concept, to architectural drawings, to completion. "It's a niche market, but building custom retirement homes from start to finish for discerning clients is something we do well," says Kevin. Part of his expertise is constructing homes that will withstand the extremes of our coastal climate. "It may initially cost a bit more money to build things properly, but it's worth it not to have issues down the road," he explains.
Roseanna now provides her interior design services exclusively for OceanQuest Homes, selecting cabinets, colors, even furnishings upon customer request. Currently she's choosing finishes for OceanQuest's newest project, single level courtyard homes with unobstructed fairway views of Crestview Golf Club in Waldport. How did Roseanna and Kevin find the choice lots? By playing golf themselves, one of their favorite activities.
It's almost essential for a design-build contractor to have a strong relationship with their bank, which is how Kevin describes his rapport with Oregon Coast Bank. "Having the opportunity to deal with a bank that knows you by name and understands your business is incredible," he explains. "Oregon Coast Bank supplies construction financing and can roll that loan into a permanent mortgage. They make things so convenient for our customers."
Currently numbering over 76 million, the majority who have yet to reach retirement, baby boomers will continue to seek beautiful locations in which to retire. The Oregon coast remains a popular choice, meaning prospects look good for high-end builders with strong track records like OceanQuest Homes. Yet Kevin and Roseanna have no plans for rapid expansion. "We've built our reputation by overseeing every detail from planning to completion," points out Kevin. "We're very content building a small number of custom homes that we're proud of."