The Olde Telephone Company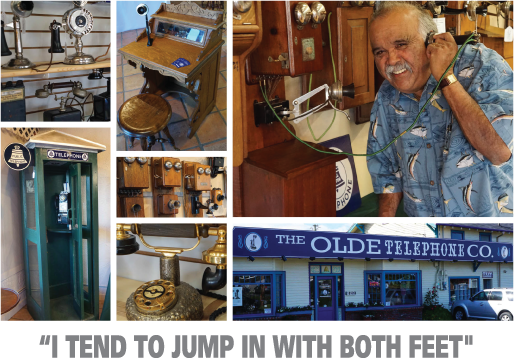 He was a sergeant in the El Segundo, CA Police Department at the age of 25, a lieutenant at 28. But at 32 he was injured on the job, which forced him to retire. Fortunately, George Valenzuela had already discovered his passion – collecting vintage telephones – and he and his wife, Valerie, turned that passion into a store, The Olde Telephone Company, which they operated in Cambria, CA for eight years.
He enjoyed every minute of running the store, but for financial reasons he accepted a position as Director of General Services with The Aerospace Corporation, a federally funded research center, where he managed 125 people. The money was good and frankly, "hard to walk away from", but that's exactly what he did when he chose to retire after 21 years and, as George recalls, "follow my own path in life".
That path naturally involved his passion for vintage phones, for his collection had only grown larger during his time in the corporate world. It seems like a unique hobby, but George was hardly alone in his collecting. With over a thousand active members, The Antique Telephone Collectors Association is the largest telephone collectors organization in the world and George has served both as President and Chairman of the Board. Finally, after his second retirement, George was ready to reopen The Olde Telephone Company. The only question was where.
Having visited the central Oregon coast a dozen times over the years, George and Valerie bought a home in Newport January 2016. On April 15th they purchased the commercial building that had housed Sandcastle Toys, which they knew would be perfect for the store. Six weeks later, The Olde Telephone Company had reopened in Newport. "For twenty years it was a toy store for children; now it's a toy store for adults," explained George.
"I tend to jump in with both feet," laughs George as he gives a tour of the store, which is filled with museum-quality pieces, priced from under $100 to $15,000. The oldest phone displayed was built in 1878, the first year phones were commercially available. His collection includes 38 three-box phones from the 1880s. There's a phone that belonged to Queen Victoria and a gold plated one with an ivory receiver originally owned by Mary Pickford. No two phones in the store are alike and all are available for purchase.
The Olde Telephone Company, which now employs four, has sold phones to decorate restaurants and to be used as props in movies. Customers often come in to buy phones to match the architecture of their vintage homes. Most antique phones can still be wired to receive calls, however lacking current digital technology, they can no longer initiate calls.
The store has already attracted vintage phone collectors from all over the country to visit Newport, where George and Valerie also give them access to their home collection and garage, which naturally is filled with antique phones and parts. Uninitiated visitors, who have seen the store's fifty-four foot sign and wandered in, have also become collectors. Other customers have simply visited the store to show younger members of their families what phones used to look like before we started carrying them in our pockets.
In George's words: "when you call a bank and tell them you want to open an antique telephone store, they think you're nuts." And that's the type of reception he was used to until he called Oregon Coast Bank on the recommendation of his realtor. "They actually listened, took interest, and quickly funded the purchase of our commercial property," remembers George. "It's difficult to articulate your vision, but I saw it in this building. They did too," he adds. "They're just so personal – now when I walk into Oregon Coast Bank, I feel like part of the family."