Pizza Me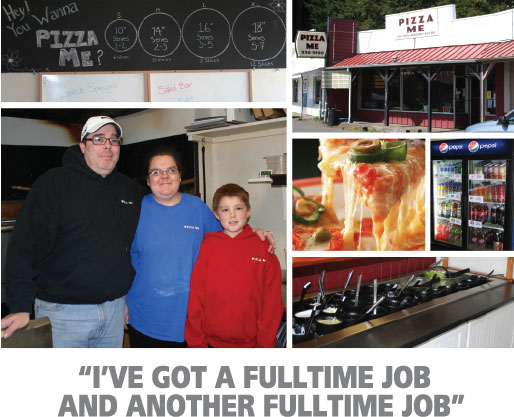 Born and raised in Toledo, Larry Little is very appreciative to have a good job in his hometown.  For the past 16 years he's been a boiler operator at the Georgia Pacific mill, typically working 48 hours a week.  Like most of his friends, Larry enjoys the spectacular hunting, fishing and camping the Toledo area is known for.  But these days his recreation time is scarce.
"I've got a fulltime job and another fulltime job," laughs Larry.  That's because this year, Larry and his wife, Tina, purchased one of Toledo's favorite restaurants, Pizza Me.  He's no stranger to the pizza business however.  He tossed his first pizza back in 1988, when he was just 15 years old.  Since then he's worked at several area pizza parlors and even owned one in Lincoln City, before selling it a few years ago.
"Folks here in Toledo are a bit spoiled when it comes to pizza," he explains.  For more than 25 years the area had several family-owned pizza parlors that used hand-thrown dough and pizza recipes originally from the New York area.  There's even a big demand for garlic knots, a traditional Italian delicacy made from pizza dough smothered in garlic, olive oil and parmesan.
Hand-throwing pizza isn't just for show.  The technique allows the chef to shape and size fresh dough into an ideal crust, thicker on the outside while light and airy in the middle.  Larry is a stickler about quality, only premium ingredients are used in his sauces and toppings.  He also cares about value.  "We still offer an 18" extra large pizza," he points out.  "Most pizza chains now call a 16" pizza giant, but people don't realize that an 18" has 25% more surface area."
Besides great pizza and garlic knots, Pizza Me is known for its pasta dishes, entrée salads, and sandwiches, which are usually served hot on fresh pub rolls.  Having the only salad bar in Toledo is also an attraction for nutrition minded families.
Although the Pizza Me dining room has seating for 23 guests, which is ideal for team parties, much of the restaurant's business is delivery, takeout, and catering.  Delivery is free within five miles, with just a small fee for extended areas.  On a typical evening, Pizza Me will deliver to Newport, Siletz, Logsden, even Eddyville.
Between cooks, servers, and drivers, Pizza Me employs six.  As the restaurant continues to grow, so will the number of jobs it provides.  There's already a Help Wanted sign in the front window. As a believer in the advantages of local business ownership, Larry chose Oregon Coast Bank to be his business bank.  "The people in the Toledo office are super friendly and I really appreciate it when they bring their families to our restaurant."  As much as he enjoys visiting the bank, he also takes advantage of online banking to save time, which makes a lot of sense for anyone, let alone a guy who works about 90 hours a week.
Sometimes it seems like everyone wants to own their own restaurant.  Open the door of a 500 degree pizza oven in your face a hundred or so times a night and you'll realize a small part of the commitment needed to succeed.  Larry has done that for more than 25 years.  Yet he still loves the business.  "I just get a lot of enjoyment making a really good pizza," he explains.  Toledo is lucky to have him and we're lucky to be his bankers.