Quade Construction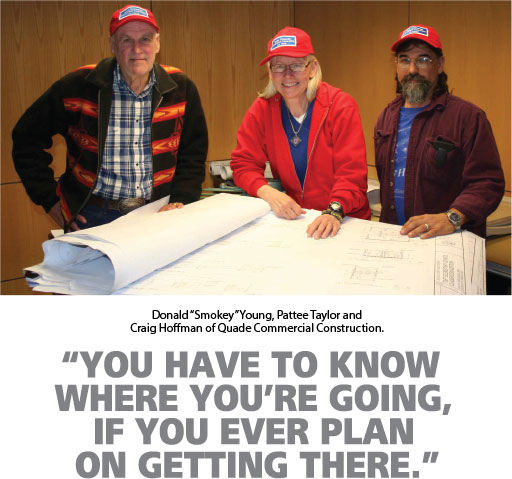 It's no secret, coastal weather is hard on buildings.  If you want a structure to last, the best way to do it is to hire a construction firm that understands local conditions and has the track record to prove it.
For more than 45 years, Quade Commercial Construction of Lincoln City has successfully built hundreds of major projects, including fire stations, restaurants, churches, motels, schools, libraries, stores, condominiums, banks, city halls, performing arts centers, dormitories, office buildings, warehouses, apartments and a wide range of other projects.  Working in both the public and private sector, the company averages $5-8 million dollars in construction projects per year.
From remodeling projects to new construction of large concrete tilt up buildings, Quade has a well-earned reputation for completing jobs on time and on budget.  "These days, value engineering has become more and more important," explains Donald "Smokey" Young, one of the company's owners.  "That means the building's proposed design exceeds its budget.  Through alternate construction methods or materials, it's our job to make the design fit the budget."
Companies in business as long as Quade Commercial Construction eventually all face the challenge of orderly succession.  "You have to know where you're going, if you ever plan on getting there," points out Young.  In 2011 the company's founder, Neil Quade, passed away.  In addition, partners Ralph Hawley and Art Quade were ready to retire.  Fortunately the company had planned for succession.  In June of 2012, longtime employees Pattee Taylor and Craig Hoffman purchased stock to become partners with the remaining owners Smokey Young and Johanna Quade.  Since Taylor and Hoffman had a combined 47 years experience with the company, business continued smoothly.
Recent projects have included additions at Taft and Ocean Lake Elementary Schools, new offices for the Tillamook County Health Clinic, a remodel and addition for the Pacific Maritime Museum, new windows for Chinook Winds Hotel and a major office remodel for the Port of Tillamook Bay.  Several large projects are already in the works for 2013.
"We take pride in what we build," comments Hoffman.  "We use local subcontractors who are familiar with coastal conditions," adds Taylor.  "I think they feel the same obligation that we do – to do the job right because we're part of the community."  Besides the subcontractors they hire, many of whom are former employees, Quade Commercial Construction also employs crews of up to 25 people.  "Our core employees have 12 to 15 years of longevity with our company," says Young.  "That experience is vital when you're building in a coastal environment."
A strong banking relationship is important in the construction business, and that's exactly what Quade Commercial Construction has with Oregon Coast Bank.  "Besides our business accounts, property management accounts and personal investments, Oregon Coast Bank provides our line of credit," explains Taylor.  "They worked closely with us on our succession plan, and with their help it all went smoothly," adds Young.
At Oregon Coast Bank we get to appreciate the work of Quade Commercial Construction on a daily basis.  The company has designed and built all five of our offices.  If you're ever in need of commercial, industrial or institutional construction, we highly recommend them.