Rain Forest Mushroom Company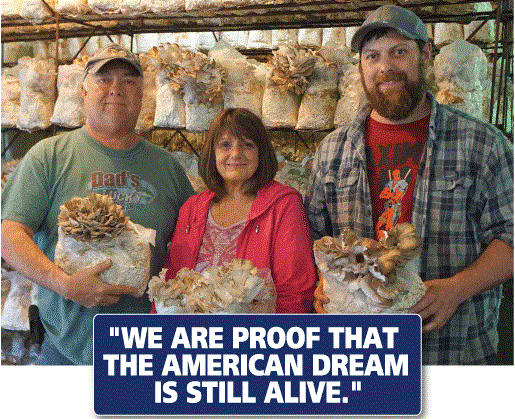 Unless you are familiar with the exotic mushroom market, you may not realize that what Bob, Debbie and Bobby Rudel are holding in the picture above are considered to be the industry's best Certified Organic Maitake mushrooms. A delicacy pursued worldwide, the Rudel's Maitakes are grown in Eddyville and Yachats.
"It wasn't a farm at first, it was just a dream," recalls Bob. After more than 25 years Bob's dream is still evolving and it's certainly worth recalling.
Raised on a grain farm in Fessenden, North Dakota (in his words: "it's near nothing"), Bob Rudel graduated high school and joined the army. When he returned he met and married Debbie, who had also grown up on a farm. Soon Bob was studying physics and industrial technology at North Dakota State, but with the news of his mother's death, he headed home to run the family farm. The timing couldn't have been worse. Local agriculture was mired in a decade long depression.
With his ever present smile, he describes those days as "farming a barren wasteland." After five years of continual effort, Bob and Debbie made the decision to move 1500 miles to a place infinitely more fertile – Eddyville, Oregon.
To support their growing family, Bob fished commercially and sold cars while Debbie worked as a hairstylist. In his spare time Bob began to pursue his dream of cultivating exotic mushrooms.
Fine exotic mushrooms are a highly evolved form of fungi grown on hardwoods, typically ash or maple. Inferior strains are mass produced using straw or even manure. But Bob was determined to do it the right way. The problem at that time was that no one knew how.
Cultivating exotic mushrooms takes sterile conditions. Mycelium (small pieces of mushroom flesh) is grown in Petri dishes. Using a simple pressure cooker in the family kitchen, Bob would cook the mycelium with the hardwood sawdust and wheat bran that it needed to grow. The process required two to five months of incubation, depending on the strain, in a forty cubic foot plastic chamber he constructed in the house. Debbie eventually banished the operation to the barn.
Thousands of his attempts failed, but Bob gradually pioneered the process. When equipment was needed, he built it himself, including a large steel mixer constructed of used gears and chains from local mills. That original mixer is still in use today. "Many people believe that it's a big bag of money that solves problems. We didn't have that, so we relied on ingenuity," remembers Bob.
Eventually Bob took seven pounds of his Shitake mushrooms to the Corvallis Farmers' Market. They all sold before the market opened. Quickly, he called Debbie, who brought the rest of his supply, which also sold almost immediately.
Since then, Rain Forest Mushroom Company's business has grown steadily. Today six employees send out 700 – 1000 pounds of mushrooms per week, all cultivated indoors at the company's operations in Eddyville and Yachats. Most is sent to wholesalers, with about 70% of the output going to fine restaurants. Mushrooms are definitely a perishable product: "You have one week to sell them – the pressure never ends," explains Bob.
Bob attributes much of the company's success to the steady management of Debbie and his son, Bobby, who chose to return to the family farm after earning a degree in finance at Linfield College. The family continues to work hard – "I'm sixty years old and I put in twenty hours last Saturday," laughs Bob.
Rain Forest Mushroom Company and the Rudel family were among the founding customers of Oregon Coast Bank. Over the years the bank has helped with equipment and vehicle loans, but in Bob's words "the relationship goes way beyond that." He most appreciates knowing that his bankers' doors are always open when he wants feedback on new ideas. That happens frequently.
You'd think that after 25+ years of pursuing his passion, Bob might slow down. But his enthusiasm remains contagious. "Never give up," he says. "We are proof that the American Dream is still alive."