Retherford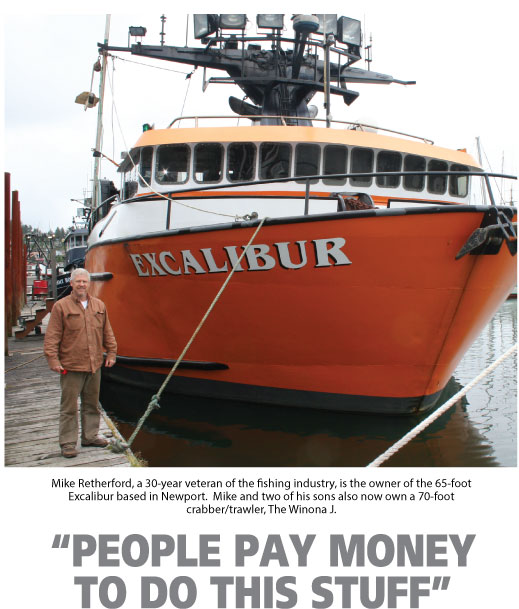 When the seas are choppy and the rain is blowing sideways, Mike Retherford will always tell his tired crew, "People pay money to do this stuff". And although the life of a commercial fisherman can be tough at times, there's no place he'd rather be than on the ocean.
Born in Toledo and a graduate of Waldport High School, Mike started his fishing career as a deckhand for Larry Cooper and Jim Sievers about 30 years ago. By 1984 he'd become a captain. Saving as much money as he could, Mike was able to buy a share of the Excalibur in 1991 with Barry Fisher. After Barry passed away, his family sold the rest of the boat to Mike. Based in Newport with a five man crew, the 65-foot Excalibur fishes in Oregon waters primarily for crab, cod and Pacific whiting. For about three months each year, it travels the west coast serving as an NOAA research ship.
For the Retherfords, fishing is very much a family affair. Mike's wife Kelley handles all of the office work, including permitting. Their two oldest sons, Mike Jr. and Chris, are full-time crew members. Seventeen year old Kyle, a Toledo High School student, works on the netting in the family's 7,000 square foot Toledo warehouse and joins them at sea during the summers.
In 2008, Mike, Mike Jr. and Chris purchased a second vessel, the Winona J. Also based in Newport with a four man crew, the Winona J is a 70-foot crabber/trawler with shrimp capabilities. When not on the water, the Retherfords enjoy camping, skiing and snowboarding. They're active in their church and regularly donate to local causes like the Toledo Booster Club.
Commercial fishing can be an expensive business. Part of the reason for the Retherford's prolonged success is that they have consistently upgraded their boats with the latest technology to make them as efficient as possible. Much of the financing has come through the family's relationship with Fred Postlewait, President and Chief Executive Office of Oregon Coast Bank. "Fred's been through the good times and the bad times of the fishing business," explains Mike. "He understands what we need and why we need it."
The Retherfords have a variety of accounts and loans at Oregon Coast Bank and frequently stop by our new Toledo office to visit with Jake Postlewait. They value their relationship with their bankers and we value them as customers and friends. Commercial fishing remains an important component of our coastal economy and thanks to the hard work of fishing families like the Retherfords, our community prospers.