Saffron Salmon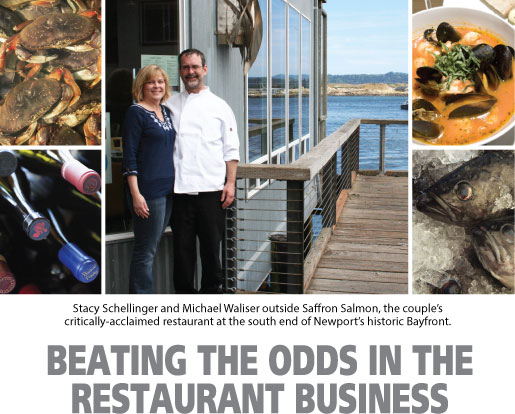 About 10 years ago, Steve Dennis purchased an old cannery at the south end of Newport's historic Bayfront and began remodeling it into the Bay Street Pier. During the process he visited Spokane, where he wandered into a local bistro and enjoyed a memorable meal. Utterly impressed, he asked the proprietor, Michael Waliser, if he would be interested in opening a restaurant in Newport. Enticed by the prospect of a vacation, Michael and his wife, Stacy Schellinger, agreed to a visit and promptly fell in love with the town, the Bayfront, and the panoramic view of Dennis's newly renovated space. After selling Michael's Spokane restaurant, the couple moved to the coast and opened Saffron Salmon in 2003.
Statistically, success as an independent operator in the restaurant business is a long shot. Yet Michael and Stacy are clearly beating the odds. Consistently praised in an extensive list of reviews, Saffron Salmon has become popular with locals and visitors alike. The service is impeccable. Stacy operates the front of the house and has a knack for making every occasion seem special. Customers are typically recognized by name and visitors return year after year. The bay view is extraordinary; Michael likens it to "a movie that never ends".
It is the food, however, that sets Saffron Salmon apart. As a chef, Michael is somewhat of a minimalist, allowing the natural flavors of fresh, local ingredients to take center stage. Troll caught salmon, which Michael fillets himself, is purchased directly from reputable local fishermen. Salmon preparations vary by season, but the portions are distinctly thick and remarkably moist. The pan fried Dungeness crab and shrimp cakes and the spicy seafood stew are outstanding. But Michael also displays an accomplished touch with meats. Rack of lamb grilled with sumac and pan seared New York steak are local favorites. All sauces, stocks and dressings are made from scratch, as are the outstanding desserts, like home made marionberry cobbler. The reasonably priced wine and beer list features predominantly northwest vintages.
Although they employ a staff of 10, Stacy and Michael are hands-on operators. Sixty to seventy hour work weeks are the norm. Saffron Salmon contributes to a variety of local causes ranging from Food Share of Lincoln County to the Humane Society.
Prior to joining her husband in the restaurant business, Stacy's background included office management and banking. "When we opened Saffron Salmon I wanted to find a local community bank that was as enthusiastic about our business as we were," remembers Stacy. The couple chose Oregon Coast Bank and eight years later they're still impressed. "They understand our business and they even helped us buy our first house," explains Michael. "Oregon Coast Bank provided us with what I call my peace-of-mind line of credit," adds Stacy. "We've never used it, but I sleep better at night knowing that it's there."
The overwhelming popularity of Saffron Salmon is a tribute to the talent, hard work and tenacity of its owners. We're pleased that Stacy and Michael chose to bank with us and elated that they chose a location so close to our Newport office. We're now regular Saffron Salmon customers ourselves and thoroughly recommend it.