Sandbar & Grill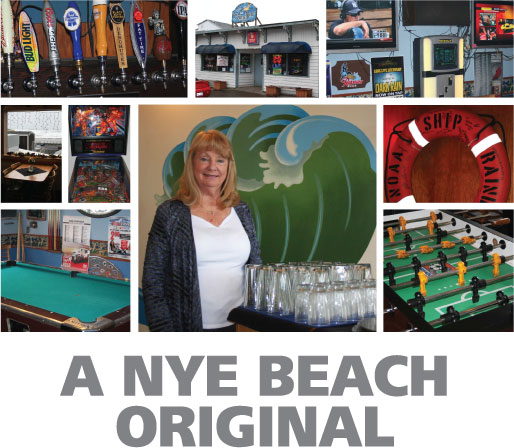 No one seems to know the exact year of its opening, although old timers tend to agree it was in the 1930s. So let's just say that for many years fishermen, loggers and some of Newport's most "colorful personalities" have spent an inordinate amount of time debating the issues of the day, perched on bar stools, at The Sandbar and Grill in Nye Beach.
The next important date was about 20 years ago, when Bonnie and Paul Parashak started looking for a business to purchase on the coast. Searching between Rockaway and Florence, they were told that the venerable old Sandbar might be available to purchase. At that time, Nye Beach was far from the cultural, shopping and dining Mecca that it is today. But Bonnie and Paul understood the area's potential and decided to purchase not only the business, but also the building that housed it.
Remodeling the building over the years, the Parashaks added an upstairs, ocean view dining room and patio. As business increased, so did their staff. These days during the peak summer months, The Sandbar & Grill employs 13. Typically in the food and beverage industry employee turnover is high. Not at The Sandbar. All three of the business's bartenders have been working for the Parashaks for more than 10 years.
With cocktails, northwest wines and a wide selection of beer, including regional micro brews, The Sandbar continues its legacy as a popular "watering hole" for locals and visitors. Pool, foosball and shuffle board are available as well as seven TVs, which are constantly tuned to sporting events. It's not unusual for Sandbar patrons to bring in signs or pennants commemorating their favorite teams and add them to the eclectic décor. Remarkably, the Duck/Beaver ratio remains about 50/50.
Of course these days, The Sandbar has become equally well known for its cuisine. Clams are kept fresh in a saltwater tank and then steamed to order in a mixture of wine, butter and garlic. When in season, the fish and chips are made from fresh, locally caught halibut filleted at the restaurant. The Sandbar's burgers have a loyal following, as do the homemade soups and chowders.
Although Paul has retired, Bonnie still remains active in the business, even waiting tables during peak hours. "The best part of owning a bar and grill is the clientele," she explains. "We get to meet the nicest people."
Bonnie and Paul prefer to do business face-to-face, so when their longtime Newport bank began requiring corporate approval of local banking decisions, they decided they'd had enough. "Moving our accounts and loan to Oregon Coast Bank was a great decision," recalls Bonnie. "I just prefer banking where they know us by name and know how we like to do things."
Aside from the fact that it's usually filled with locals, visitors to The Sandbar typically have no idea of the establishment's rich and colorful history. But as Bonnie puts it, "In the restaurant business you have to earn your reputation every day." If the food tastes great, the beer is cold and the atmosphere fun, people tend to come back. And that's probably why folks have been returning to The Sandbar and Grill for all these years.