Sassafras Sues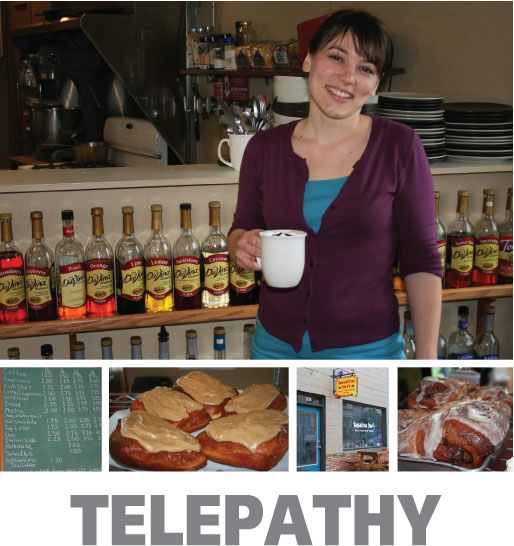 Watch the counter for a while, and you'll think you're witnessing telepathy. At Sassafras Sue's in Toledo they don't just know their customers' names; they actually start brewing their orders before the customers have even said a word. The regulars love it; in fact many visit more than once a day.
Jointly owned by Kimberlee Monroe and her daughter Kaity Schovanec, Sassafras Sue's opened about two years ago on Toledo's iconic Main Street. All three employees are family members; if you're not waited on by Kim or Kaity, Noel, another of Kim's daughters, will be at the counter.
Everything is baked fresh. Maple bars with Kim's homemade frosting, cinnamon rolls and fried pies typically sell out quickly. Kim's biscuits and gravy are called "addictive" by the regulars. A different homemade soup is offered daily as well as a quiche and specialty salads. The wide variety of sandwiches is highlighted by Kim's secret chicken salad recipe. As an added touch, every lunch comes with a homemade cookie.
Kaity readily admits that while she was attending Toledo High School she never dreamed that she'd open a business at home, but after graduating from Pacific University with a degree in social work, she began to appreciate how special a community Toledo is. "Every day as I walk my dog I'm waving to customers, that means something to me," she explains.
Despite working 50 to 80 hours a week, Kaity loves Sassafras Sue's. "I get to be with my mom every day," she says without a touch of sarcasm. Both Kaity and Kim love the creativity of owning their own restaurant. They also agree that the best part of the business is having the opportunity to interact with their regulars every day. Kaity says, "Someday I'll get married and we'll have to hold an extra reception just for our customers." Of course, weddings are another part of Sassafras Sue's business. Whether it's catering a small meeting, a barbecue for 400 or providing prepared salads for 1,000 guests, Sassafras Sue's can handle it.
Kim and Kaity are both active in their church and the community. In fact, it was at a local committee meeting that Kaity met Jake Postlewait, manager of our Oregon Coast Bank Toledo office. "We decided to move our accounts to Oregon Coast Bank because they're local, which means a great deal to us", she explains.
Kaity jokes about her mother's computer skills, but Kim is an active user of Oregon Coast Bank's Online Banking. Eyeing the future, Kaity and Kim are considering remodeling, with the confidence that Oregon Coast Bank will be as enthusiastic about their plans as they are.
It isn't just our taste buds talking, but everyone at our Oregon Coast Bank Toledo office highly recommends Sassafras Sue's. We also admire their gumption for opening a restaurant during an economic downturn and making it an unquestioned success. Family-owned businesses are the backbone of our coastal economy, and we're proud to be their bankers.