South Prairie Store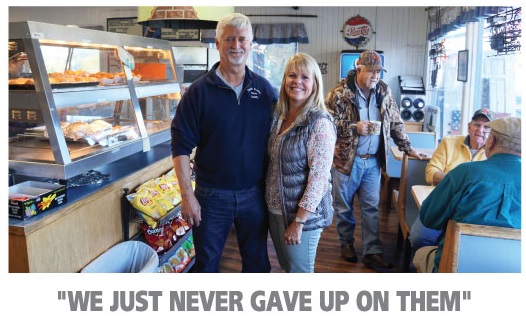 The South Prairie community in Tillamook has always been close knit. That's where David Burt grew up; in fact his family goes back six generations in the area.
David and his wife, Jenny, started dating while attending Tillamook High School. After graduation he headed off to Western Oregon University, while she attended Mt. Hood Community College. Within two years they had married and David had begun a 22-year career with Fallon Logging, starting from the bottom and working his way up to management.
Jenny served for 30 years as an Independent Living Facilitator for Tillamook, Clatsop and Columbia counties, teaching teenagers in foster care independent living skills. That in itself is a remarkable story, which we'll discuss in a moment, but let's first talk about South Prairie Store, which is where you see David and Jenny standing in the picture above.
Nobody seems to know exactly when it opened, but South Prairie Store has been the hub of the community since the early 1930's. David and Jenny purchased the business about 14 years ago. Besides providing gas and diesel, South Prairie Store is in David's words: "a mom & pop deli – where people can catch up on all the gossip."
Each morning at about 5:45 am a group of local gentlemen stop by for coffee. Another group of guys usually arrive around 8 am. 9 am is typically when the ladies of the neighborhood hold court. The younger folks politely leave the tables for the elders.
Known for their pigs-in-a-blanket, hamburgers, pizza and biscuits & gravy, South Prairie Store serves breakfast, lunch and dinner seven days a week. The store, which employs eight, stocks a wide variety of convenience foods and groceries. ATV permits are also a popular item.
Asked to explain the unique relationship between the store and its customers, David tells the following anecdote: "A few years back, an inebriated young man drove through the front window of the store. Jenny and I weren't there, but by the time we arrived, customers had cleaned up all the glass and were starting the repairs. That's why I love this community."
As nice a story as South Prairie Store is, it pales in comparison to the Burts' other passion, making a difference in the lives of at-risk kids. When they were in their early twenties, Jenny and David read a newspaper article about the plight of teenagers in the foster system. Within a few months they became foster parents, opening their home and hearts to teenage girls who had to deal with past trauma and unstable living situations. Many of the girls had already been adjudicated into the court system themselves.
Typically the Burts would have three to four foster girls in their home at a time, but over a thirty year span, Jenny and David added 79 daughters to their family. 79, that's not a misprint.
Jenny taught them the independent living skills required to become productive citizens. Each of the girls attended Tillamook High School, many went on to college. "It was important for us to give them the most normal life possible," remembers Jenny. "We took them to football and basketball games, went camping, took trips to Disneyland, and bought their prom dresses." All of the girls also held jobs, many at South Prairie Store.
Raising teenagers is hard enough; the Burts raised two of their own. But raising foster teens with traumatic backgrounds can be extremely challenging. What's the secret? "I have a lot of tenacity and I'm really stubborn," laughs Jenny. "We just never gave up on them," remembers David.
These days, Jenny keeps in continual contact with her foster daughters via Facebook and phone calls. The girls often come to visit, some bring their children, and some have made their own homes in Tillamook.
Last year David and Jenny added a new venture. With the help of financing from Oregon Coast Bank, the Burts built and now operate Southbound Storage, a 77-unit facility.
Asked why they chose to work with Oregon Coast Bank, Jenny answers: "Walking into Oregon Coast Bank feels just like a visit to South Prairie Store – everybody is always smiling." Thanks Jenny, we certainly consider that high praise.