Steve & Christine Allen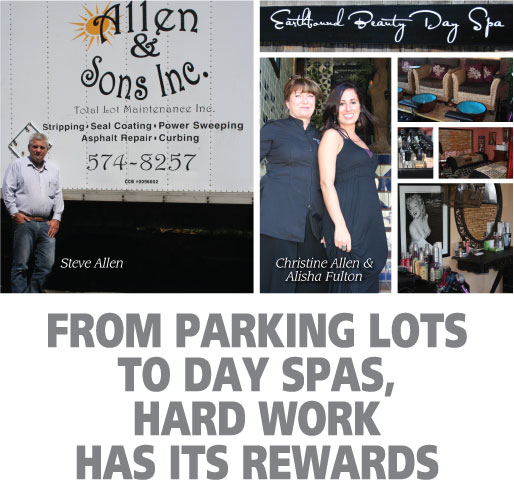 Twenty-one years ago when Steve and Christine Allen purchased their first business, a small parking lot sweeping operation, they became their company's only employees. Christine delicately balanced being a full time mom and the business's office manager, while Steve routinely put in 16 hour days operating the company's sole sweeper and canvassing the area for more customers. As business increased they simply worked harder – Steve remembers working a full year without a day off.
Over the years the company has grown dramatically and increased its services to include parking lot striping, seal coating, curb installation, grading and asphalt. Allen and Sons now employees up to 15 during peak periods and regularly serves a diverse group of private businesses as well as municipal, county, state and federal agencies. The original single sweeper has been replaced by a fleet of over $800,000 of specialized equipment. Even during the economic slowdown of the past several years, Allen and Sons crews have worked steadily at job sites throughout Lincoln and Tillamook counties as well as in the Portland metropolitan area.
Always an innovator, Steve has installed GPS systems on all company trucks so that his management team can monitor the whereabouts and efficiency of the company's fleet. Even things like engine idling time are measured and analyzed, allowing the company to operate as efficiently as possible. From an ecological standpoint, Allen and Sons vacuums and removes many tons of trash and debris every year as it cleans parking lots throughout the area.
Five years ago, Christine opened another family business, which has also thrived in a far different line of services. Earthbound Beauty Day Spa in Nye Beach offers body wraps & scrubs, facials, manicures, pedicures, massage and microdermabrasion as well as hair services and other cosmetic and therapeutic treatments. With their clientele expanding rapidly, Christine added a partner, Alisha Fulton, an esthetician/nail technician/masseuse. The addition of Alisha to Earthbound Beauty Day Spa and a strong management team at Allen and Sons, including Tyler Allen, has allowed Steve and Christine to travel extensively during the winter months.
The Allens are longtime customers and stockholders of Oregon Coast Bank. "Having a great banking relationship makes it so much easier to run a business," explains Steve. "If I'm out of state and I see a piece of equipment that we need to buy, I'll simply write a check for it and call the bank to have them cover it. When I return they'll have the loan documents ready to sign… It's that simple." These days when the Allens travel, they can manage their personal and business accounts easily through their laptop or iPad using Oregon Coast Bank's Online Banking and Bill Pay.
Fred Postlewait, President & CEO of Oregon Coast Bank, recalls several years back when during a routine examination of Allen and Sons business loans, a regulator asked him what he knew about "Mr. Allen". Fred, who had mountain climbed with Steve, replied: "I know him well enough to trust him to hold the belaying rope when I'm on a near-vertical snow field." Apparently the examiner was quite satisfied.
Looking back over 21 years, Steve and Christine admit that they never even imagined that someday their businesses would be providing services as diverse as grading, facials, asphalt and massage. But through hard work and vision their businesses have thrived. All of us at Oregon Coast Bank appreciate their contributions to our local economy and we salute them.