Stone Crest Cellars B&B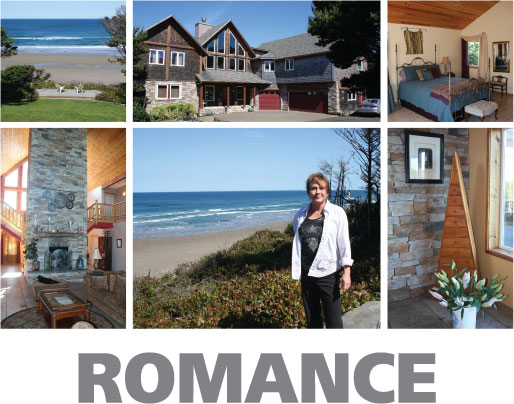 It's hard to imagine a more romantic getaway, which may be why Stone Crest Cellars Bed & Breakfast is booked steadily almost year round for weddings, spur of the moment elopements, planned elopements, vow renewals, proposals and anniversaries. In fact, during 2010 the South Beach bed and breakfast received the Martha Stewart Award as one of America's "Best Wedding Venues".
Building and operating Stone Crest Cellars B&B has been a labor of love for its proprietors Judy and Craig Joubert. Longtime owners of one of California's largest martial arts academies, Judy and Craig tired of the heat and bustle of Sacramento and began to search the Oregon Coast for a site for their dream B&B. In 2000 they discovered land in South Beach that Judy called "the perfect canvas for a sunset" and soon had purchased 1.17 oceanfront acres. Within two years they had broken ground and framers began constructing a 5,000 square foot wine country-inspired villa of Judy's own design. The couple completed most of the finish work themselves, in fact Judy candidly admits that it seems like she's had a hammer in her hand for the past 9 years.
The result is spectacular. Stone Crest Cellars is visually inspiring and well suited to its oceanfront location. Guests relax in suites featuring luxury linens, antiques and Turkish bath robes. Wine and appetizers are served each afternoon, chocolate desserts precede bedtime and hearty breakfasts are cooked from scratch.
A staff of up to eight people, including several family members, insures that weddings run smoothly. Vows are most often delivered overlooking the ocean, but when the weather is less than cooperative, the facility's covered gardens, massive fireplace and wine cellar serve as ideal alternate locations.
Stone Crest Cellars' staff makes wedding planning a breeze. "We take care of everything," explains Judy. Fresh flower arrangements and tuxedo rentals are available on the premises. The company's offsite catering kitchen can expertly prepare most any cuisine.
As romantic as it sounds, operating a successful bed and breakfast is also a lot of work. Between hospitality, meal preparations and keeping the property in tip top shape, the Jouberts work very long hours. The couple is also involved in the local community. Craig teaches martial arts to more than 60 students and Judy has served for five years on the Central Oregon Coast Visitor's Association.
Of course owning a B&B does have its advantages. "We get to live every day in a beautiful romantic setting," points out Judy. "But the best part is meeting guests from all over the world and hearing their stories."
The Jouberts credit Oregon Coast Bank for "taking the time to listen to our plans and understanding the niche we intended to serve." The bank refinanced their original loan, providing funds to enhance the facility. With a variety of Oregon Coast Bank business and personal accounts, the Jouberts find it easy to manage their finances through Online Banking and Bill Pay.
We all understand that romance can never be quantified. However as bankers we can't help but admire how the Jouberts have taken their romantic vision and turned it into a solid business.