Surf & Sand Inn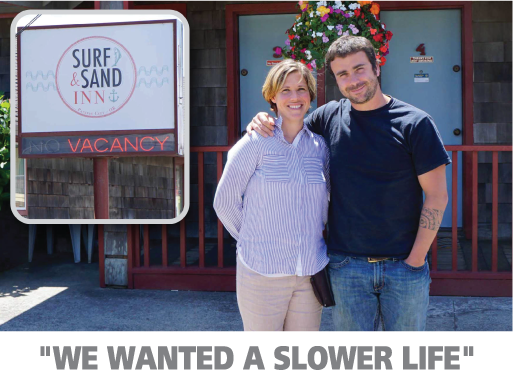 Their accents are certainly different than you'd normally hear on the Oregon Coast, but they're also different from each other. He grew up in France, she's from South Africa. Somehow they met and somehow they chose Pacific City as home.
Raised in Biarritz on southwestern France's Basque coast, where he learned his love of surfing, Alex Ponot went to a French college and later earned his MBA in Quebec, Canada. He then spent ten years in the surf industry, holding positions in communications and marketing. Recognizing their rapid growth in the USA, Alex was the first to distribute stand up paddle boards in Europe. Several years later he sold the company and moved to San Clemente, California to open a wine bar, which he would run for three years.
After graduating high school in South Africa, Ronel Ponot moved to the Caribbean island of St. Maarten. Soon she had a job aboard a yacht. That led to a five-year career managing chefs and stewards on luxury yachts traveling the world. Luxury is a term with a wide definition. In this case, the luxury yachts Ronel managed rented for about $250,000 a week. Eventually she too moved to southern California, after accepting a position in investments and estate planning for a family.
With a smile, Alex calls Ronel "a very good online shopper", describing how they met on match.com. As newlyweds they enjoyed a "stable life" in California, but when their son, Hudson, came along, they knew they needed a change. Between their commutes and long work hours, Alex and Ronel both yearned for more family time.
"We wanted a slower life," explains Ronel. They decided with her experience in the hospitality industry and his in marketing, that together they had the ideal background to "run an inn." Driving up the Oregon coast while helping a friend move to Seattle, Alex and Ronel became enamored with the area. They began searching online for a lodging property they could buy.
Alex and Ronel first looked at Pacific City's Surf & Sand Inn during September of 2015. They loved the area – it reminded Alex of the coast of Brittany – and felt that they could successfully run the business. But a few things needed to be done before that was possible. They finished remodeling their California home before putting it on the market. They also needed to sell the wine bar. Somehow, it all worked out and seven months later Alex, Ronel, Hudson, three dogs and a cat moved to a new home in Pacific City and their new business.
Built as a Coast Guard headquarters during World War II, the Surf & Sand Inn is a 15-unit hotel in the heart of Pacific City that now employs six. The rooms are exceptionally clean and customers enjoy amenities like plush towels, new bedding, flat screen TVs and complimentary high speed internet service. Regulars, such as contractors and fishing guides, often book months in advance. The Surf & Sand Inn has also become a popular stop for bicyclists riding the coast, many of who are from other countries. "We offer cyclists free laundry services," points out Ronel. "We also share with our guests a lot of information about things to do in the area."
Occupancy rates and customer comment cards have been excellent. "We're actually looking forward to the winter and things slowing down a bit," laughs Alex. But most importantly, the Ponots are very happy in their new home. "We're surrounded by such good people," says Ronel, "and everybody has been so nice."
Their life in Pacific City includes hard work each day, but after the rooms have been cleaned and most of the guests checked in, there's plenty of family time. They hike local trails and picnic on the beach. Alex works in their yard and often surfs in the afternoon. Ronel enjoys local yoga classes. But it's "the little things," she says, "like stopping the car to simply watch the cows," that they're enjoying most. Alex calls it "a feeling of being connected to nature." You just don't find that as often in the congestion of southern California.
During his teenage years, Alex worked at a small local bank in France. When they moved to Pacific City, they looked for a bank with that same "sense of community" and found it at Oregon Coast Bank. "They recognize you the minute you walk in," says Alex, "the customer service is great and we really like the staff." Ronel appreciates phoning Oregon Coast Bank "and actually speaking to a real person." Apparently that never happened at their old bank in California.
Ronel calls Pacific City "our ideal beach town." Considering their travels, that's quite a compliment. Having experienced coastal communities all around the world, the Ponots chose to raise their family in Pacific City. We're glad they did.