The Oar House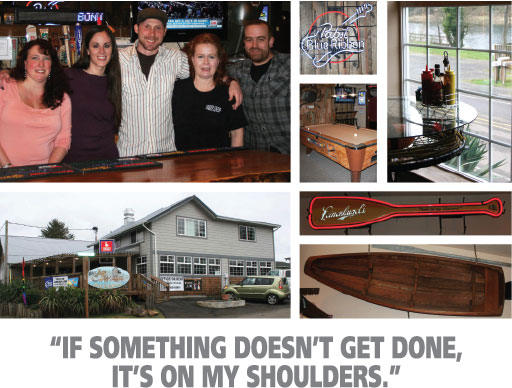 Take a look at the staff picture above and try to pick out the owner.  She does look young, 28 to be exact, but Jessica Kliever (shown second from left), the owner of The Oar House in Pacific City, has worked hard every step of the way.
Jessica grew up in Dallas, Oregon and fondly remembers weekends and vacations at her parents' beach cabin.  "A lot of Dallas people have homes in Pacific City," remembers Jessica.  "It was like one extended family – crabbing, fishing and potlucks."
Her dad owned a floor covering business and Jessica started helping out when she was in sixth grade.  "He taught us the value of hard work and savings at an early age," she explains.  "I've held as many as three jobs simultaneously."
After graduating from Dallas High School, Jessica earned an associate degree at Chemeketa Community College and became a dental assistant working for Dr. Grant Williams in Pacific City.  Soon she was also working as a server and bartender for Sportsman's Pub N Grubb, Delicate Palate Bistro and Twist Wine Company.  When Don Sheeley and Debbie Harris first opened The Oar House in May of 2010, Jessica was one of their first employees.  Eventually, Don and Debbie asked Jessica if she'd like to buy the business and began educating her about how to run a restaurant.
The transaction occurred in March of 2012.  Jessica paid "a chunk of money" from her savings while Don and Debbie agreed to carry a contract for the balance.  How does it feel to own a restaurant while still in her 20's?  "Sometimes I ask myself what did I do," laughs Jessica.  "If something doesn't get done, it's on my shoulders.  Owning the business means I have to deal with everything, there are no options, but generally it feels great, it's what I do."  Make no mistake, operating a restaurant can be hard work.  Although she purposely doesn't keep track of how many, Jessica admits that she works from 8 to 14 hours per day.
The Oar House is open for lunch and dinner seven days a week and has earned a tremendous reputation.  Given its location, seafood is very popular, but The Oar House steaks are also exceptional.  Prime Rib is offered on Fridays and Saturdays, and typically sells out.  Oar House meat loaf is from Debbie Harris' original recipe and is popular as both an entrée and a sandwich.  Lunch favorites include grilled fish tacos, burgers and a classic reuben.
With its views of the Big Nestucca River and a large deck adorned with hanging flower baskets, The Oar House appeals to visitors and locals alike.  The family-friendly restaurant seems to be always filled with repeat customers, many who appear to know the owner.  "It feels good when people smile, hug you and say how proud they are of you," admits Jessica.  "Those are the joys and perks that make it all worthwhile."
Jessica is insistent that it's her staff that deserves the credit, in fact she wanted to be interviewed at a time when her staff could be photographed.  The Oar House employs six during the winter, 11 during the busy summer months.
Jessica also admits that she "actually looks forward to going to the bank."  She considers her local office of Oregon Coast Bank to be "like a family – they just treat you so well".  Jessica eventually plans to pay off the balance of her restaurant purchase with long term bank financing and she's glad that she has such a strong banking relationship.
All of us at Oregon Coast Bank admire Jessica's hard work, competence and enthusiasm.  We also enjoy getting the chance to chat with her on an almost daily basis.  If you're ever around Pacific City at lunch or dinnertime, The Oar House is definitely worth a visit.