The Shores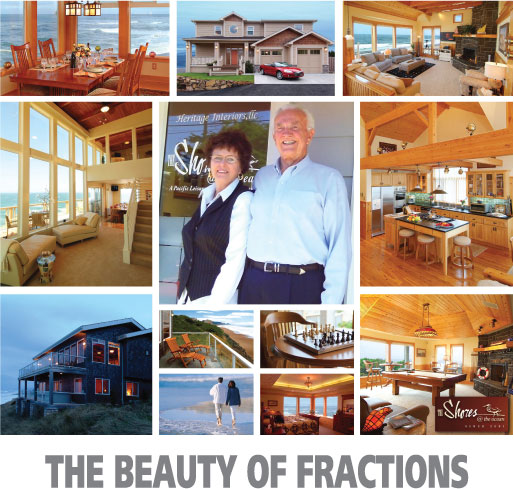 Gordon and Patricia McMahon, owners of The Shores @ the Ocean, make quite a team. As a contractor and real estate developer, Gordon has decades of experience and a long list of successful projects in Oregon, Montana and California. With a well-earned reputation as one of the west coast's most respected interior designers, Patricia's expertise can be seen in every project The Shores @ the Ocean undertakes.
Married for 32 years, Gordon and Patricia first began visiting the Oregon coast while their eldest daughter was attending the University of Oregon. In April 2001 the couple moved to Lincoln City to modify and develop The Shores at the Lake Condominiums, now sold out. But Gordon and Patricia had bigger plans. Since the mid-1980s, Gordon had been at the forefront of an emerging new concept of resort and vacation properties known as "fractional ownership". He felt Lincoln City would be an ideal market for the concept.
With fractional ownership, buyers purchase deeded interests as tenants in common of a vacation property. By sharing the cost of the home and its professional upkeep, buyers can own a much larger and more elegant second home than they might otherwise be able to afford. Perhaps even more importantly, homeowners can actually enjoy their vacations since all property maintenance, repair and even cleaning is provided by the management company.
The Shores @ the Ocean has developed 12 one-of-a-kind totally furnished ocean front homes, which are sold in 1/7th fractions. The company also manages the properties and provides resale services. Each home is unique with upscale features such as gourmet kitchens, home theaters, pool tables, hot tubs and home offices. The luxurious homes even include a convertible in the garage for the owners' use. A staff of 14 employees ensures that each home is always well maintained.
Interestingly, many of the customers who have purchased fractional ownership shares from The Shores @ the Ocean had previously owned a complete interest in a vacation home. "We spoil them," laughs Gordon. "Once they get used to not having to take care of the place they never want to go back to full vacation home ownership."
Gordon and Patricia have banked with Oregon Coast Bank since 2005. In addition to their personal and business accounts, they also have accounts for each of their property ownership groups. "It's nice to be able to talk to bankers who have the authority to make decisions," explains Gordon. "It isn't that way with big chain banks." Oregon Coast Bank also offers financing for customers purchasing fractional shares of The Shores @ the Ocean properties.
By providing true ocean front home ownership at a fraction of the cost, The Shores @ the Ocean has had a very positive economic impact on our community. Gordon and Patricia deserve a lot of credit for their vision and tireless efforts as pioneers in the fractional ownership industry. All of us at Oregon Coast Bank are proud to be their bankers.