Toby Murry Motors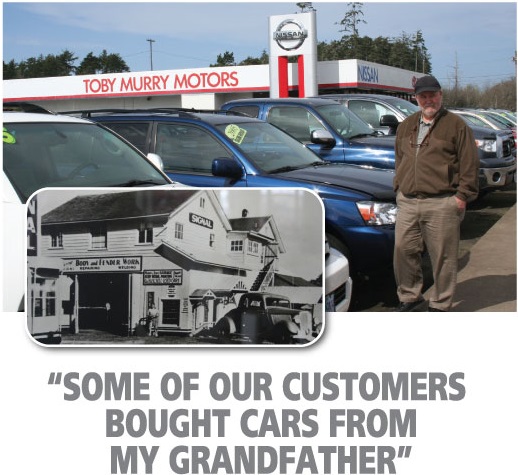 his is a story of four generations of Richard G. Murrys, well actually five if you count Alva T. Murry. After a violent hail storm had badly damaged his farm, killing all of his livestock, Alva decided Missouri wasn't the most hospitable of places and decided to move his family as far west as he could. Apparently only the Pacific Ocean stopped him, and Alva was soon repairing and selling used automobiles in South Beach.
The inset photo above shows the Hudson and GMC sales and repair facility that Alva's sons Richard (who went by the name of Toby), Ross and Ted built in South Beach in 1946. That was also the year that the company's current proprietor, Richard G. Murry, Jr. (who has always been called Dick), was born. That's Dick in the picture above.
By 1962, Toby had opened the dealership that bears his name, Toby Murry Motors, right across the street on three formerly swamp-filled acres. Originally offering Nissan, AMC and GMC vehicles, Toby Murry Motors soon became the first and only dealership in America to house Nissan and Toyota franchises in the same building. Dick Murry began his career at the dealership in 1967 and by 1991 had purchased 100% of the business from his two brothers. A fourth generation, Dick's son Richard G. Murry III (Richie) is now the dealership's Service Manager. In fact, if you bring your vehicle into Toby Murry Motors for an oil change during the summer, chances are the service will be performed by Richie's son Richard G. Murry IV, who goes by the nickname of Quad.
As confusing as that may all sound, the important point is that Toby Murry Motors truly operates as a family business. It's not unusual to find locals who have purchased 20 to 30 cars from Toby Murry Motors and factory-sponsored customer satisfaction surveys routinely rate the dealership among the highest in America. In fact, this year Toby Murry Motors received Toyota's prestigious President's Award, which is bestowed on only about 5% of Toyota franchises.
Unquestionably, the family business has been beneficial to our community. With its body shop and full service sales, service, parts and rental departments, Toby Murry Motors employs 20 with an annual payroll exceeding half a million dollars. The company is known as a generous benefactor for a wide range of local charities and has on several occasions donated new vehicles for fundraisers. Toby Murry Motors also believes in the importance of providing credit to local buyers and underwrites over a million dollars of automotive financing which is administered by Oregon Coast Bank.
Dick Murry is quick to credit Oregon Coast Bank for helping his family dealership remain financially sound through the ups and downs of the automobile market. "Whether I have questions about my business accounts, my personal accounts, or even my credit lines, all it takes is a simple phone call to Oregon Coast Bank and things are taken care of – it's that easy." In fact, Dick believes in the importance of community banking so much that he is a founding stockholder and member of Oregon Coast Bank's Board of Directors.
All of us at Oregon Coast Bank recognize how important the Murry family has been to the economic vitality of our community. We also realize how fortunate we are to be able to trust a neighbor when we need to purchase vehicles for our own families, which explains the unusually high number of Toyotas and Nissans you'll typically find in an Oregon Coast Bank parking lot.