Vickies Big Wheel Drive In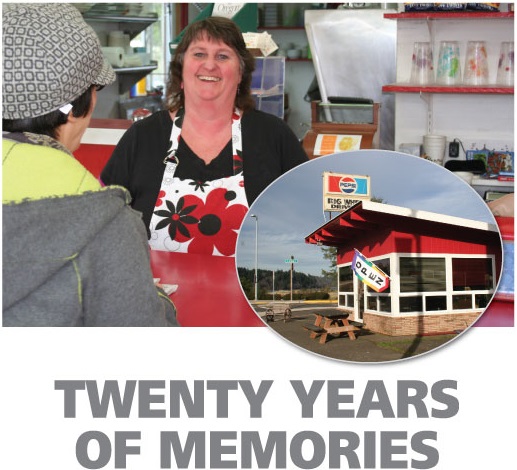 Crossing the Alsea Bay Bridge from the north, your first glimpse of Waldport includes a slice of Americana. Vickie's Big Wheel Drive In is one of those iconic restaurants that seems frozen in time. It's not unusual for locals to stop in on a daily basis; visitors tend to return year after year. Each day when school lets out, the students head for Vickie's. What's the attraction? High quality food cooked to order, very reasonable prices and smiles behind the counter. Often that smiling waitress/cook is Vickie herself, Vickie Banes, who took over the business 20 years ago.
Vickie moved to Waldport with her family at the age of 17. Like most locals, she had fond memories of the town's Big Wheel Drive In, which originally opened in the mid-1950's. When the original owners' grandson offered Vickie the opportunity to lease the business, she quickly said yes. Five years later she purchased the building.
During that first year operating the drive in, Vickie met her future husband at the Big Wheel. Lloyd Bains had come to Waldport to work on the bridge. As he came in for lunch every day it was quickly evident that he wasn't just in love with the cheeseburgers, he'd fallen head over heels for the restaurant's proprietor.
Today, Vickie employs three people, and is helped by her oldest daughter Olivia Elliott, who started working at the restaurant at the age of nine, and hopes to succeed her mom if she ever considers retirement. Between shifts behind the counter, buying supplies and doing the bookkeeping, Vickie continues to work about 50 hours a week.
Consistently praised by travel writers, the cheeseburger at Vickie's Big Wheel Drive In has achieved almost legendary status. The secret? Top quality ingredients, starting with Oregon-bred Carlton beef topped with a thicker slice of cheese. For those with an even bigger appetite, the popular half-pound Wheel Burger includes Swiss and American cheese as well as ham, bacon and egg. The Big Wheel's menu is extensive with many items made from scratch. Of course no meal at Vickie's is complete without one of her 15 different "real" milkshakes. Granted, America does have other great family owned drive ins like Vickie's, but none share the Big Wheel's spectacular view of Alsea Bay and Bridge.
Vickie visits Oregon Coast Bank almost every day and has a great rapport with everyone in our Waldport office. "Oregon Coast Bank takes the time to get to know you, which is something that all banks could learn from," she remarks. Vickie also appreciates how quick and flexible the bank has been in helping finance her real estate purchases.
If you own or are considering purchasing a business on the coast, we'd like to be your bankers. And if you visit our Waldport office, perhaps we can walk across the street and discuss things over cheeseburgers from Vickie's Big Wheel Drive In.