Waldport Flea Market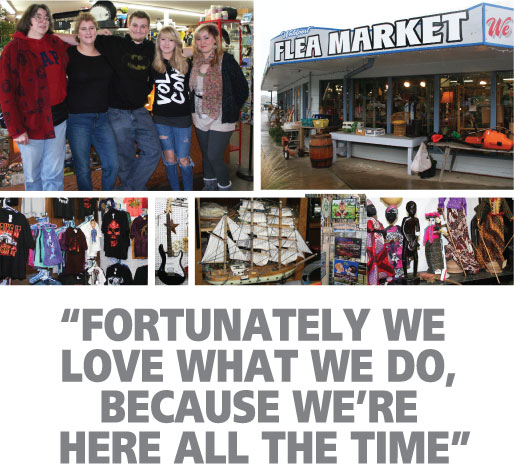 In the summer the line of shoppers typically stretches outside the door. Even during winter, the iconic Waldport Flea Market is often packed with customers. Imagine 6,500 square feet filled with an ever changing, eclectic mix of merchandise and you can understand why the business is so popular.
"One of the things that we're most proud of is that we have given hundreds of people the opportunity to make a living," explains Pauline Gates, who started the Waldport Flea Market back in 1994. At first the business was open on weekends only, but within three years the Waldport Flea Market was operating seven days a week. Today, 30 independent dealers and more than 100 consignors sell goods through the Waldport Flea Market. The business also runs estate sales and markets their merchandise worldwide through waldportfleamarket.com and eBay.
What can you find at the Waldport Flea Market? The mix changes on a daily basis but includes jewelry, art, musical instruments, tools, hardware, clothing, kitchenware, books, home goods, native American handicrafts, even "stuffed critters". Looking for end tables made from real port holes? An Alaskan hair brush made from whale baleen? How about an ivory cribbage board? Those items and countless other curiosities have been sold through the Waldport Flea Market.
Dealers pay the Waldport Flea Market a small rent and commission on each sale. The company advertises that it buys gold, silver, collectables… well, just about anything. "If people want it, we'll carry it," explains Pauline. "We have regular customers who come from as far as Germany". Celebrities have also been known to seek out the Waldport landmark. John Elway and Matt LeBlanc are among the recent visitors.
Pauline's children, Stewart and Madeline Parnell, were home schooled right at the store. "These days they can run the place themselves," explains Pauline. "Fortunately we love what we do, because we're here all the time."
As successful as the Waldport Flea Market has become, Pauline readily admits that the business could have grown much larger in an area with a bigger population base. "This is the lifestyle that I chose," she explains. "Waldport's been a great community for my family."
She also has nice things to say about her local bank. "I truly believe that Oregon Coast Bank wants to make my financial life work – it's nice knowing that they're on our side," points out Pauline. With her credit line as well as personal and business accounts, we get to see Pauline on an almost daily basis, which is always a pleasure. We also can't help but admire what an economic impact she's made in the community. Over the years, hundreds of local people have earned an income through the Waldport Flea Market. Pauline continues to create jobs and seems to be having an awful lot of fun doing it.