Warfield Limited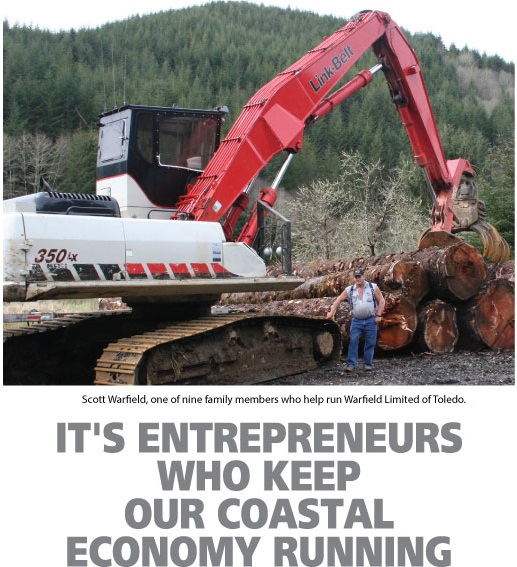 Back in 1968, Glenn Warfield started a one cat logging company in Toledo. By 1971 his son Scott had joined the company full time, followed by another son, Sam in 1973. Although he's still a partner in the business, Glenn handed over day to day operations of the company to Scott and Sam in 1987.
Today Warfield Limited employs 25 fulltime workers and generates many more jobs for subcontractors and suppliers. Working steadily year-round from Florence to Tillamook and all the way east to Corvallis, the company produces an astonishing average of 50 truckloads of logs daily. Warfield Limited is one of just four logging companies on the west coast to have earned a long term contract with Plum Creek, which has more than 9 million acres of timber land. The company also contracts with other major timber companies including Forest Capital, Georgia Pacific, Weyerhaeuser and Hancock.
Why has Warfield Limited succeeded while so many other logging contractors are struggling? "We work extremely hard and no matter how many jobs we have running simultaneously, there's always a Warfield onsite," explains Scott. Two other Warfield brothers, Rod and Terry, also work for the company, as well as Scott's sons Danny and Robbie. Also involved are Sam's wife Trina, Scott's wife Tammy and Scott's daughter Brenda, who handle much of the business side of the company's operations.
Staying ahead in the logging business requires an enormous amount of equipment. Warfield Limited invests more than a million dollars in equipment upgrades on an annual basis. Much of the financing has come through Oregon Coast Bank. "We wouldn't have survived this bad economy without them," observes Scott. "Oregon Coast Bank doesn't just loan us money, they've helped us become better business people, and thanks to their advice we're much more financially stable."
Although they are rarely saluted for their efforts, it's entrepreneurs like the Warfields who keep our coastal economy running. We're proud to be their bankers and we recognize what an important role they fulfill in our community.