Waves of Newport Motel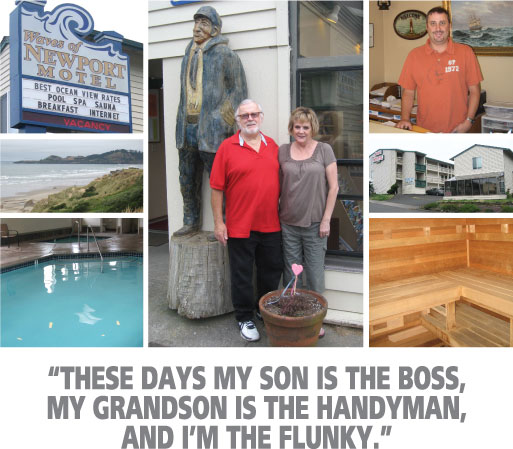 After serving in the army, Harry Clark used the GI bill to study electronics at a technical school. Two years later he began a successful career as a TV repairman in the Seattle area. An avid fisherman and hunter, Harry soon decided to move to the Oregon coast for recreational reasons. While living in Newport Harry met Joan, fell in love and decided to ask for her hand in marriage.
About 29 years ago, Harry and Joan became business partners too, when they purchased a 17-unit Newport motel, The Summer Wind. With just two part time maids, Harry and Joan did all the rest, working long hours side by side. Not only did they expand the business, they purchased another motel, The Newport Motor Inn. Then, approximately 15 years ago, they sold The Summer Wind and purchased The Waves of Newport Motel and Vacation Rentals, which the family still operates today.
As with most family businesses, the children pitched in. Their son Billy jokingly remembers it as "slave labor". But now that he and his wife Shanna are managing The Waves, the roles have been reversed. "These days my son is the boss, my grandson is the handyman, and I'm the flunky," says Harry. And although he and Joan now try to fish and crab as often as possible, they're still very involved in the business, which today employs a staff of 15.
With 60 units, many ocean view, and amenities like a large indoor swimming pool, spa and sauna, The Waves is one of the area's most popular motels. Despite its spectacular location, The Waves has always maintained affordable prices which include a popular breakfast.
Despite the hard work, Harry and Joan have nothing but fond words about the lodging industry. "I'm fortunate, each day I get to talk to people from all over the country," explains Harry. "Everyone has a story." "We've made countless friends," adds Joan. "Many of our customers return year after year."
Harry and Joan "like to know" their bankers and they've been Oregon Coast Bank customers for many years. Besides their personal and business accounts, the bank has provided loans for remodeling and expansion. They also take advantage of 24-hour online banking and bill pay when they travel in their 36-foot RV, which they do now about six months a year.
One of the most rewarding aspects of community banking is the opportunity to work with local entrepreneurs like Harry and Joan. They've worked hard, they've treated their customers with respect, and as a result they've built a thriving family business. We're just proud to be their bankers.