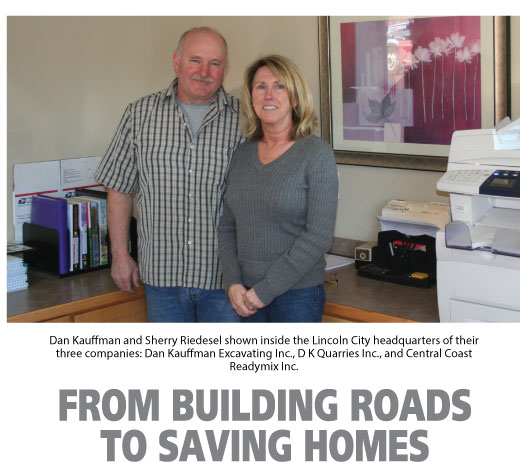 You could say that excavating is in his blood. Dan Kauffman's father operated a quarry and was known for his expertise in installing rip rap seawalls – his work to stabilize the Salishan Spit is still effective today. After a few years of working for his father, Dan became an independent excavator in 1981. His reputation grew and so did the business. In 1997 Dan began leasing his dad's quarry. Today, he and his wife Sherry Riedesel own and operate three separate companies: Dan Kauffman Excavating Inc., D K Quarries Inc., and Central Coast Readymix Inc., all headquartered in Lincoln City.
Dan and Sherry's companies employ 20+ workers and are actively involved in residential, commercial and government excavation projects stretching from Cannon Beach to Florence and as far inland as Sheridan. Customers include homeowners, contractors, ODOT, the forest service and many local municipalities. The companies' services include site work, stump removal, road building, ponds, sewers, septic systems, water lines, road grading & maintenance, pile driving, crushed rock and delivery of concrete readymix. They currently operate six different quarries serving Lincoln, Tillamook, Polk and Yamhill counties.
As diverse as the company's operations have become, Dan Kauffman Excavating is best known for its expertise in rip rap. Up and down the central coast the company has been credited with saving many homes from sliding into the ocean. Their office proudly displays many heartfelt thank you letters from customers expressing their gratitude to the company for saving their homes. Some of those letters point out that Dan Kauffman Excavating was called in emergency situations and literally worked around-the-clock during holidays to save homes.
The excavation business is by nature equipment intense. Dan and Sherry's companies own a full line of bulldozers, scrapers, excavators, front end loaders, dump trucks and crushers. Of course that equipment doesn't come cheap, so it's important for Dan & Sherry to have a strong banking relationship.
"We've been customers of Oregon Coast Bank since they first opened in Newport more than seven years ago, and we highly recommend them," explains Sherry. "Whenever we needed a loan, Fred (Fred Postlewait, Oregon Coast Bank's President) would drive up himself and bring the paperwork," comments Dan. "They also provided our mortgage when we built our home out near Rose Lodge." Working with Oregon Coast Bank got even more convenient three years ago when the bank opened its Lincoln City office. "They're all super friendly and whenever we need anything we just call Eric (Eric Greenawald, Manager of Oregon Coast Bank's Lincoln City office)." Dan and Sherry also appreciate being able to use their Oregon Coast Bank Line of Credit to purchase new equipment.
It could be said that a man who loves to move dirt and rock with heavy equipment is really a boy who refuses to grow old, and judging from his other hobbies that may be the case. Dan remains an avid dirt bike rider and his eyes really light up describing the Harley he bought last summer. Now empty nesters, Dan and Sherry's blended family includes four sons, a daughter and a grandchild. The couple spends much of their spare time maintaining their 66-acre property.
You can't help but admire Dan and Sherry. Through hard work and dedication they've built three strong companies that all have had a positive impact on our local communities. In fact their motto for Central Coast Readymix is "whatever it takes". When we asked Sherry to describe Oregon Coast Bank she replied: "They're definitely hometown, that's what we like about them." Of course when you think about it, that's a great way to describe Dan and Sherry, too. We're just appreciative that they've chosen to bank with us.
More Stories
Read the story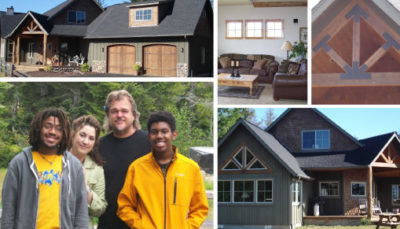 Waldport
Spruceridge Homes & Design
Michael Schlosser learned about hard work at an early age. His parents and three siblings were migrant workers, traversing the…
Read the story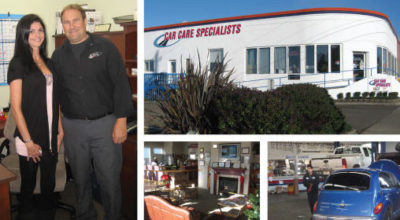 Lincoln City
Car Care Specialists
At the precocious age of 23, Randy Neal opened Car Care Specialists in Lincoln City. At the time, his business…
Back to All Stories