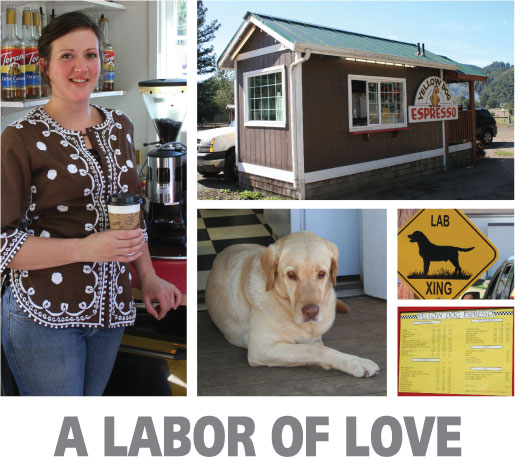 Drive into Hebo and you'll usually find a line at both windows of Yellow Dog Espresso. The business, which will soon celebrate its seventh year, has built a devoted customer base of locals and frequent visitors. In fact it's not unusual for a Yellow Dog Espresso customer to stop by every day, sometimes more than once.
Yellow Dog Espresso is a labor of love for it's owner, Tori Schrock. Born in Tillamook and raised in Beaver, Tori left the area for about 10 years after graduating from Nestucca High School. Working in restaurants in Seattle, San Francisco, New Orleans and New York City, she thoroughly learned the business.
Missing her family and the beauty of the Northwest, Tori decided to move back home in 2004. Soon she had purchased approximately an acre of land right on Highway 101. After her father brought water and power lines to the property, a 10' x 16' drive-thru was constructed. Picnic tables were added to the park like setting.
It was Tori's mom who came up with the name Yellow Dog Espresso, a tribute to Hank, the family's beloved lab. When Hank passed away, it was a new yellow lab, Oscar, who became Tori's constant companion.
"Creating concoctions is what I like to do," explains Tori. "I find it very rewarding to work with flavors." All of Yellow Dog Espresso's smoothies are made with real fruit including peaches, raspberries, strawberries, pineapples, bananas and seasonal berries. "Our customers appreciate having a beverage with nutritional value," says Tori. Also popular is a refreshing spritzer made from homemade lemonade, raspberries and seltzer. The company's house coffee, Yellow Dog Blend, is a special roast from Cascade Estates in Eugene. Homemade breakfast sandwiches and burritos are made from scratch each morning. Tori's mom does most of the baking on the premises and customers enjoy a rotating menu of scones, muffins, coffee cakes, brownies and cookie bars.
Asked why her business has grown each year in such a competitive industry, Tori quickly credits her family. Her mom works regular shifts, and when the grass gets too high her dad shows up to mow the lawn. "Sometimes my brother will drive by, see how busy we are, and come in the kitchen to help out," she explains.
Tori has known Rose Wharton, manager of our Oregon Coast Bank Pacific City office, since she was in grade school. So when she opened her business, she knew exactly who to talk to. "If I make a mistake on a deposit slip, I can call Rose at 8 o'clock at night and get it fixed," she points out. Tori has already paid off her Oregon Coast Bank small business equipment loan and now appreciates being able to do much of her banking online with her laptop and iPhone.
All of us at Oregon Coast Bank admire Tori's creativity and perseverance. Next time you're driving through Hebo be sure to stop by Yellow Dog Espresso. Chances are there'll be a line, but it's well worth the wait.
More Stories
Read the story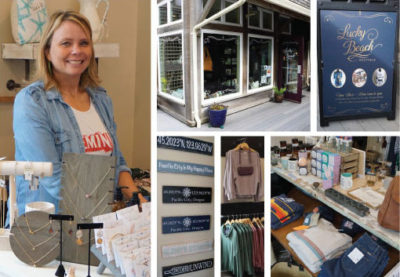 Pacific City
Lucky Beach Boutique
Browse through the fashions at Lucky Beach Boutique in Pacific City and you can't help but smile. There's a…
Read the story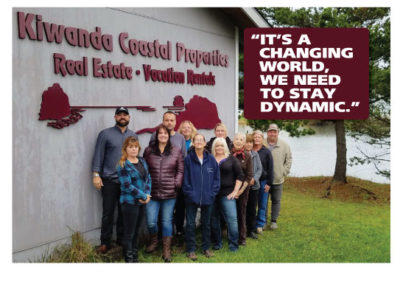 Pacific City
Kiwanda Coastal Properties
After graduating from Nestucca Valley High School, Nicole Twigg wanted to see the world, or at least more of it.…
Back to All Stories