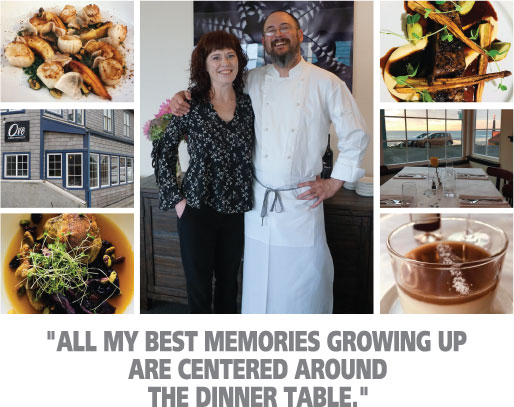 Born and raised in Newport, Charlie Branford then spent 4 years in the Marine Corps where he was a infantry instructor. While stationed at Camp Pendleton near San Diego, he met Margie, a native of Adelaide, Australia. She had come to the USA while working for a hotel and resort management company. Margie extended her visa and by 1998 they were married.
In 1999, Charlie left the Marine Corps and the Branfords moved back to Newport. He worked construction and she accepted a position as a marketing manager. In their spare time they had developed a love for fine food and wines. Charlie had begun experimenting in the kitchen, particularly with classic French cuisine. Margie remembers the evening, after Charlie had cooked a remarkable cassoulet, that she began encouraging him to enroll at the Cordon Bleu School in Portland.
After graduation, Charlie was hired as a chef by Rogue Ales and then became General Manager of their Bayfront Public House. It was however during the ten years he spent at Local Ocean Seafoods, also on Newport's bayfront, that he began accumulating multiple accolades as an exceptional chef.
During 2014 the Branfords moved to Adelaide. Margie worked for a Torque Tool Company while Charlie continued his culinary explorations as a chef at Georges on Waymouth, one of Australia's most acclaimed restaurants. But the Branford's children missed living in Newport, and by the end of 2016 the family had returned home with the dream of opening a restaurant of their own.
Charlie and Margie had hoped for a "soft" opening, an opportunity to "get the kinks out." But in this age of instant online customer reviews, word got out quickly that Ove Northwest was a restaurant to be reckoned with. Within days of its 2017 opening, the Newport restaurant was attracting a steady flow of locals and "foodies" from afar. Glowing reviews in the media soon followed.
"Ove" is a name going back generation's on Charlie's side. The "O" in the restaurant's distinctive logo was modeled after his dad's signature. Margie describes the cuisine as "New American, a melting pot of cultures." The menu is fluid, allowing Charlie to be creative. In summer the emphasis is on seafood like Weathervane Scallops and Provencal Fish Stew; in winter entrees like Charlie's slow roasted brisket and duck breast are popular.
"All my best memories growing up are centered around the dinner table," explains Charlie. Ove Northwest's menu is meant to be shared. Despite the long hours, owning an acclaimed restaurant has its advantages. "Our family gets to eat whatever we create," points out Margie. "Having great quality ingredients at your fingertips is something I've learned to appreciate," adds Charlie.
Located at the corner of NW 3rd and NW Cliff Streets in Historic Nye Beach, Ove Northwest has a spectacular view. "We want you to feel comfortable, whether just coming off the beach or celebrating a special occasion," says Margie who manages the dining room and is responsible for the restaurant's aesthetics, from colors to cut flowers. Open for lunch and dinner Tuesdays through Saturdays, Ove Northwest employs six, including Charlie and Margie's son Thomas, who began working part-time as a dishwasher.
The Branfords have been Oregon Coast Bank customers for more than a decade. When the opportunity to lease the building and open Ove Northwest first arouse, Charlie and Margie brought the idea to Fred Postlewait and Teresa Murray at the bank. "They were very supportive from the start," remembers Margie. "If it wasn't for Oregon Coast Bank we wouldn't be doing this," adds Charlie.
More Stories
Read the story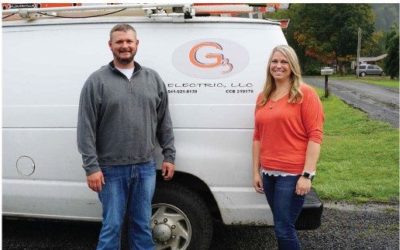 Pacific City
G3 Electric
Jason & Heather Geil seem to embody the American Dream: a stable and growing company, a home on a premier…
Read the story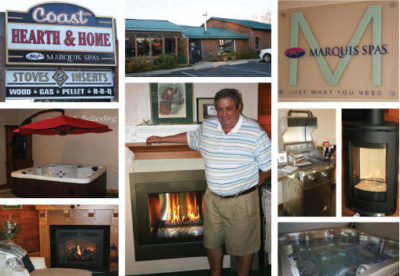 Newport
Coast Hearth & Home
At the tender age of five, Robin Comstock started selling sweet peas to tourists in Nye Beach.  After graduating from…
Back to All Stories