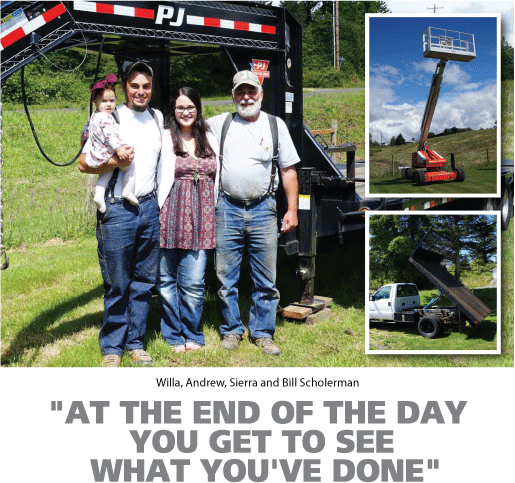 "We come from a long line of workaholics," admits Andrew Scholerman. His dad, Bill, arrived from upstate New York 45 years ago to become a commercial fisherman in Garibaldi. Soon he was painting boats, which naturally led to houses, farms and eventually commercial buildings. He's been at it ever since.
Raised on the Miami River, Andrew started learning the trade at the age of 12, painting beside his dad. By the time he was 18 he was licensed, bonded and the owner of his own company, Scholerman Painting. Andrew may look young, but he's been painting commercially for more than a dozen years now.
With commercial and residential projects from Astoria to Lincoln City, both Scholerman Painting and Bill's company, A-1 Painting, have stayed busy in good times and bad. It's not unusual for them to work as many as 36 days in a row. Both are one-man firms, which is how they prefer it. "We never work on volume – by doing things ourselves we can maintain our reputation," points out Bill. On large jobs they work together. "I couldn't do it without him," they say almost simultaneously about each other.
Repeat customers are the norm; the Scholermans have painted for as many as three generations of some families. "We're clean painters," says Andrew. "We make sure that all surfaces are prepped and primed before being painted." The process always starts with a thorough power washing. Because they own man-lifts, the Scholermans are able to work quickly and reach surfaces high in the air. Perhaps most importantly: "we're reliable and we bill fairly, so we get called back," explains Andrew.
To Andrew, painting is always gratifying because "at the end of the day you get to see what you've done." "Making an old building shine like new again is a nice feeling," he adds. Bill smiles while citing the old adage: "Painters get the glory – no one ever says: hey look at the plumbing."
Andrew likens his business philosophy to the service he receives at his community bank. "Oregon Coast Bank is simply there to satisfy their customers," he says. "They're always glad to sit down and talk with you about how they can help your business." Recently, the bank financed Andrew's new lift trailer, which is shown above. Andrew and his wife, Sierra, are also planning on purchasing a home in the future, knowing that Oregon Coast Bank will be there for the mortgage.
"We may be workaholics, but we appreciate our lifestyle," reflects Andrew. "Dad taught me to always be grateful for what we have and never complain about what we don't have." Clearly, the Scholermans enjoy their trade and their lives. Hard work and humility does seem to be a good recipe for happiness.
More Stories
Read the story
North Lincoln Sanitary
Tina and Lon French have never written a management textbook. That's a shame, because in our humble opinion, they should….
Read the story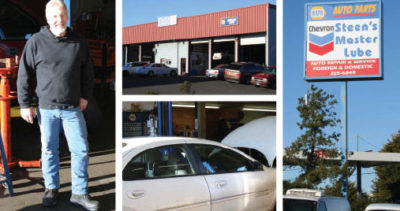 Newport
Steens Master Lube
Always industrious, Russ Harley started working at the local Montgomery Ward's Tire Department while attending high school in Newport.  Soon…
Back to All Stories