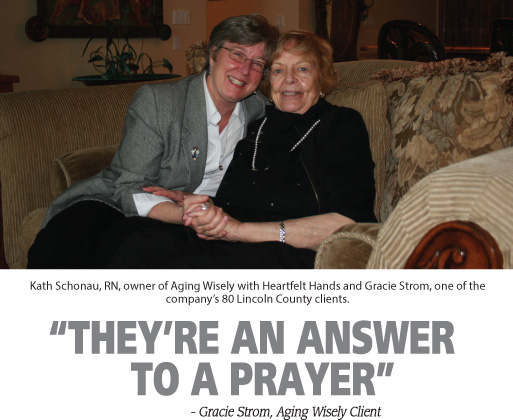 About 21 years ago, Kath Schonau moved to Newport when her husband was appointed as the local Presbyterian minister. For the next 10 years she worked at Pacific Communities Hospital in discharge planning. She then spent three years working for the State of Oregon's Senior Services Division.
Having a thorough local knowledge of available resources for local seniors, Kath launched her own geriatric nurse care management company, Aging Wisely with Heartfelt Hands, in 2004. The company became the first licensed in-home care agency in Lincoln County.
Kath is very particular in hiring caregivers. Besides sharing the traits of cheerfulness and professionalism, Aging Wisely's 40 bonded and insured caregivers include three registered nurses, a licensed practical nurse and many certified nurse assistants and personal care aides.
Typically clients are referred to Aging Wisely by local doctors and attorneys. In most cases clients have the desire to continue living in the comfort of their own home, but require some assistance. Kath provides an immediate assessment of the client's needs at no charge and serves as a liaison with the family, especially when loved ones live out of town.
Care plans are customized for each client and may include assistance with bathing, dressing and walking, medication management, home safety evaluations, monitoring vital signs, physical therapy, even hospice services. Aging Wisely's staff often provides transportation and may even serve as travel companions for events like weddings and reunions. The company's homemaking services include linens, laundry, vacuuming, windows, yard work, grocery shopping, pet care, errands and meal preparation.
Aging Wisely caregivers serve as patient advocates, coordinating details with doctors and families. Insurance and VA benefits are accepted and the company even provides insurance submission and follow up. "We're not a franchise agency, we're local healthcare providers who truly care about our clients," explains Kath. "For example when winter storms come and knock the power out, we're immediately in contact with all of our clients to make sure they're safe, warm and comfortable. Whatever their needs, they know they can call us."
The company often serves as the eyes and ears of family members who may live hundreds, even thousands of miles away from their loved ones. "We can see the subtle differences in their parents' needs, and we do keep in touch with the families. Knowing that we're making our clients' lives better makes this the most rewarding work in the world," explains a staff member.
Aging Wisely was able to grow with the help of a loan from Oregon Coast Bank and Kath is very appreciate of the relationship she has with her bankers. "They've been a great source of financial wisdom and we love the local service," she explains. As her business continues to grow, Kath also is an enthusiastic user of Oregon Coast Bank's Online Banking, which she considers "highly convenient".
Talk with an Aging Wisely client, like we did with Gracie Strom, and you'll immediately understand what an important service the company provides for Lincoln County. "They're an answer to a prayer," remarks Gracie. We couldn't think of a more accurate description.
More Stories
Read the story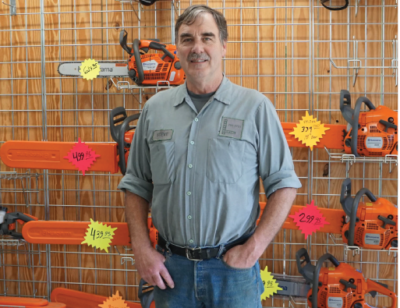 Newport
Newport Rental
Perhaps there is a better day to launch a business than the first of April, but somehow 50 years later,…
Read the story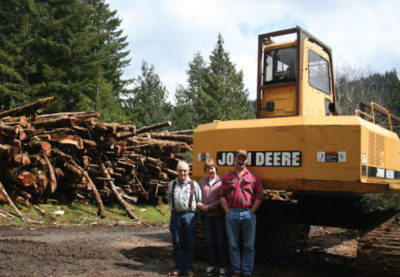 Waldport
Butler Peak Logging
When the elk are grazing by Drift Creek, which meanders through the property, it's hard to imagine a more idyllic…
Back to All Stories