Jon M Thompson Excavation & Construction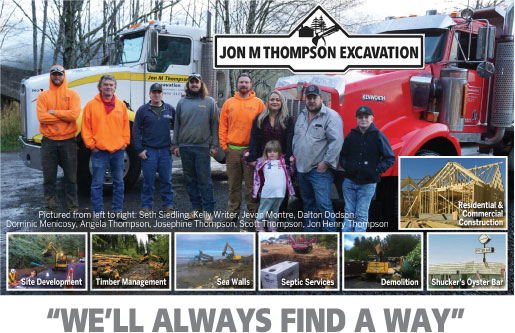 We'll do this backwards. If you look on the right in the photo above, that's Jon Henry Thompson, part of the third generation. Although he's just 12, he's already done some logging. On his left is his dad, Scott Thompson. Scott and his father, Jon, better known as Mick, who stays as far away from cameras as possible, are partners with Jevon Montre (3rd from left in the photo) in Jon M. Thompson Excavation & Construction of Lincoln City. If you think that's confusing, read further and you'll be amazed at the variety of services the company provides.
When Mick got out of the army and returned from Vietnam, he went to work for Jepson Logging. If you're a movie buff, the logging equipment marked Stamper in the classic film Sometimes a Great Notion was actually Jepson gear. By 1975, Mick had started his own cutting business. In 1990, when environmental concerns were shutting logging down, Mick started Jon M. Thompson Construction.
Jon M. Thompson Construction builds spec homes, additions, and commercial buildings. It also does remodeling services. Known for outstanding finish work, the company also provides complete site preparation as Jon M. Thompson Excavation. Those services include demolition, road building, utilities, septic systems, bridges, brush cutting, trucking, environmental restoration and sea walls. Working as far north as Seaside, as far south as Yachats, and as far east as Salem, the company gets stellar reviews from an extensive list of residential, commercial, and governmental clients.
Whether it's simply removing trees threatening homes or tearing out massive log jams threatening bridges for the county; fixing rural septic systems or repairing city sewer lines, Jon M. Thompson Excavation is trusted by the community. No matter how difficult the situation, "we'll always find a way," explains Scott. "Having a positive, can-do attitude, while finding cost-effective solutions for our customers is why our companies continue to grow," adds Jevon.
These days, the Jon M. Thompson company is still very much in the logging business. "Primarily we harvest investment properties for families – we're logging a 40-acre piece right now in Alsea," points out Scott.
Last year, when fires were devastating parts of Lincoln County, the Thompson crew arrived with their equipment and worked the fire lines for eight straight days.
"It's important to develop the next generation," says Jevon. "By encouraging and motivating younger employees, we're able to create family-wage jobs, which is good for the community." Between Jon M. Thompson Excavation & Construction and their restaurant, Shucker's Oyster Bar, the family is providing 25 fulltime jobs.
It's Mick's wife, Norma, who runs Shucker's. She's also a licensed real estate broker, which comes in handy for a family in the home building business. In her spare time, Norma does the bookkeeping for the construction company. That work ethic is also evident in Scott's wife, Angela (shown in the photo above), a fulltime mom who manages to do the bookkeeping for the excavation, logging and trucking businesses, while backing up Norma as Shucker's bookkeeper.
While famous for their oysters and farm style breakfasts, Shucker's has earned quite a reputation for their beef. Where does it come from? Schooner Creek Cattle Company, 100 head of cattle raised by Angela and Scott. Suffice it to say, the Thompson family is never afraid of a little hard work.
It was about five years ago that the Thompsons first started dealing with Oregon Coast Bank. "It started with a loan for a utility truck," remembers Angela. Impressed with the service, the family eventually moved all their business and personal accounts to Oregon Coast Bank. "We've just never met a banker that would go out of his way for you like Jedd, who manages our Lincoln City branch," says Angela. "We can't say enough good things about him and his entire staff."
When the pandemic hit, it was Jedd who got a PPP loan for Shucker's, which kept a lot of folks working. When indoor dining was temporarily halted, the staff and construction crew kept busy deep-cleaning and remodeling the restaurant. To the Thompsons, Covid was simply an obstacle. Because as Scott says, no matter what the adversity, "we'll always find a way."
More Stories
Read the story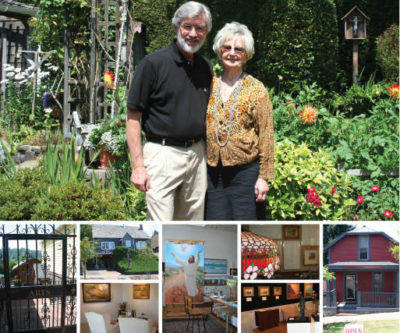 Toledo
Michael Gibbons
With his paintings in prestigious private and museum collections throughout America and abroad, Michael Gibbons is one of the country's…
Read the story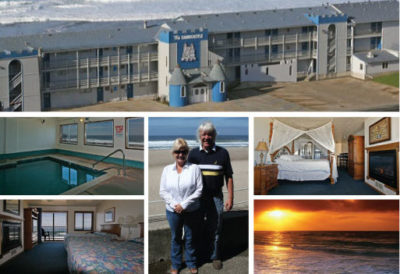 Lincoln City
Sandcastle Beachfront Motel
Back in the early 80s, Gary and Alberta Ellingson were raising their family and managing apartments in the Portland area….
Back to All Stories