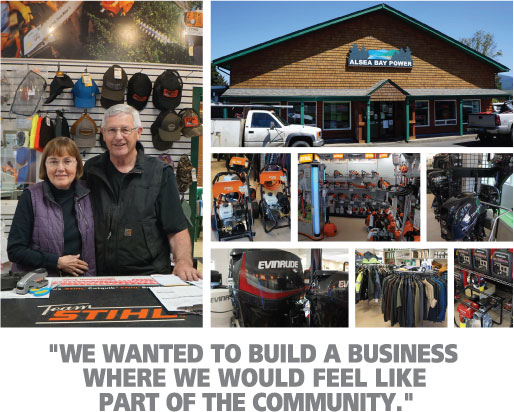 Cynthia and Dave Brooks both grew up in the Portland area. She worked for the phone company while he had a twenty-eight year career as Parts & Service Manager at Beaverton Nissan, where his departments grew from three employees to fifty.
In 1989 Cynthia and Dave purchased a home in Waldport and set their sights on being able to move to the coast fulltime. "People in Waldport and Tidewater are wonderful," explains Cynthia. "We wanted to build a business where we would feel like part of the community," adds Dave.
It was 1993 when the Brooks' started Alsea Bay Power Products in a garage in Tidewater. "We were both still working in the Portland area, so we hired a local technician for the shop and came down each weekend to run the new business. We did that for five years," remembers Dave. Eventually Cynthia retired from the phone company and Dave left his position at Beaverton Nissan so they could move to Waldport fulltime.
Cynthia and Dave purchased the building and land on Highway 34 in Waldport that currently houses Alsea Bay Power Products in 1995 and have enlarged both the structure and property over the years. What they originally envisioned to be a hobby business has now been in operation for more than a quarter of a century and employs nine people.
Alsea Bay Power Products specializes in small engine service, parts and sales, representing some of the most respected manufacturers in the industry. "New businesses don't get the top lines when starting out," points out Dave. "You have to first build up a reputation for quality and stability, which takes years."
Today, Alsea Bay Power Products sells and services Stihl chainsaws and landscaping equipment; Honda mowers, tillers, pumps and generators; Evinrude and Tohatsu boat engines; Toro mowers; and Husqvarna mowers and chainsaws. The store also sells work apparel and footwear by Carhartt, Danner, Georgia and Prison Blues.
"As technology has advanced and become more complicated, the demand for skilled technicians has skyrocketed," says Dave. "Through online training and sending our technicians to factory schools, we're certified to fix everything we sell and repair." But it's not just his employees who have undergone special training, Dave himself is certified as a Master Mechanic for all of Alsea Bay Power Products' lines. "That way I can answer any questions our customers or techs may have," he explains.
Another thing you should know about Dave. If you see him at a pool table, walk away. He's good, good enough to place in regional tournaments. In fact Dave and Cynthia remodeled their home just to fit a snooker table.
So do Dave and Cynthia have any plans to retire from Alsea Bay Power Products? "Why would we," he says. "We love our customers, we love our employees and we love this town," adds Cynthia.
The Brooks visit our Oregon Coast Bank Waldport office most every day and are on a first-name basis with the entire staff. "Oregon Coast Bank has been wonderful for our business and family," explains Cynthia. "I guess the best way to put it," says Dave, "is that they're committed to this community and so are we."
More Stories
Read the story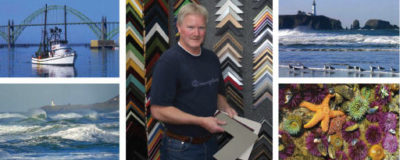 Newport
Chuck Forinash
Think of a classic photographic image of the Oregon coast and chances are it came from the camera of award-winning…
Read the story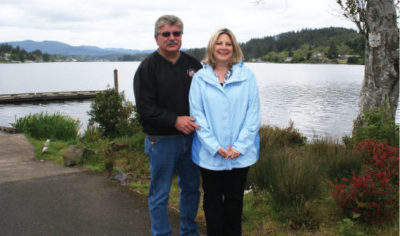 Lincoln City
Jim & Diane Kusz
Call it a love triangle, but to understand the relationship between Diane and Jim Kusz, you have to mention their…
Back to All Stories