Browse through the fashions at Lucky Beach Boutique in Pacific City and you can't help but smile. There's a certain aesthetic present, too eclectic to label, call it a continuity of style that customers definitely respond to. For lack of a better world, Lucky Beach Boutique definitely has its own vibe.
Everything displayed at Lucky Beach Boutique has been carefully curated by the store's owner, Nancy Horning, and her story is as interesting as the fashions she's brought to the coast.
Nancy grew up in the small logging town of Mill City, in the foothills of the Cascades. Yearning to see more of the world, she enlisted in the Navy after her high school graduation. Besides two deployments in the Persian Gulf, the Navy brought her to England, Scotland and much of Northern Europe.
She then settled near Washington, DC and began raising a family. About nine years ago, Nancy and her children moved back to Mill City. Soon she had caught the entrepreneurial bug and was operating a thrift store.
When her twins had graduated high school, Nancy decided to relocate to Pacific City. Not only did she love the area, but she had also determined that the town was in need of a women's clothing outlet, not just any store, but a place where "those of us who are still young at heart could find fun clothing that would still feel comfortable". That sounds like a tall order, but stroll through Lucky Beach Boutique and her description seems totally accurate.
Located on Brooten Road, Lucky Beach Boutique employs two and has garnered quite a following for fashion as well as accessories, jewelry, candles and Oregon-made keepsakes. The whimsical signs that adorn the walls (see photo above) are by Oregon artist Chelsea Bennett of Netarts. In a word, the feeling of the store is welcoming. "We never forget that our customers are here to have fun – they're on vacation," points out Nancy.
Keeping up with the latest trends means traveling to fashion markets in New York, Los Angeles and Las Vegas, an aspect of the job that Nancy thoroughly enjoys. Last year she also traveled to Vietnam and is currently planning a trip to the Philippines.
So how does a person build a boutique from scratch and grow the business to the point that it's ready for expansion? "Maybe it was the Navy that gave me the follow-through and determination to do things," explains Nancy. She also credits her children for inspiration.
"These days you can bank anywhere, but I chose Oregon Coast Bank because the people there are amazing," says Nancy. As much as she enjoys her visits to our Pacific City office, she's also a regular user of our suite of Oregon Coast Bank online banking products. That allows her to bank from anywhere at any time, which of course makes all the sense in the world for someone so comfortable traveling the world.
More Stories
Read the story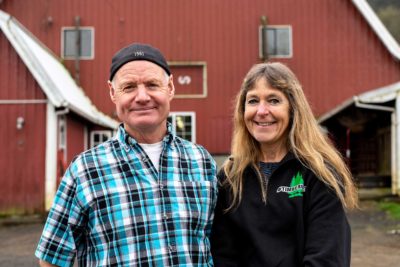 Pacific City
Bill & Ginger Slavens
Head east of Beaver, just about where Moon Creek meets the Nestucca, and you'll find Bill and Ginger Slavens' dairy…
Read the story
Lincoln City Sporting Goods
It's no secret. Business owners have had to make extraordinary adjustments to stay afloat during the pandemic. Government officials tell…
Back to All Stories