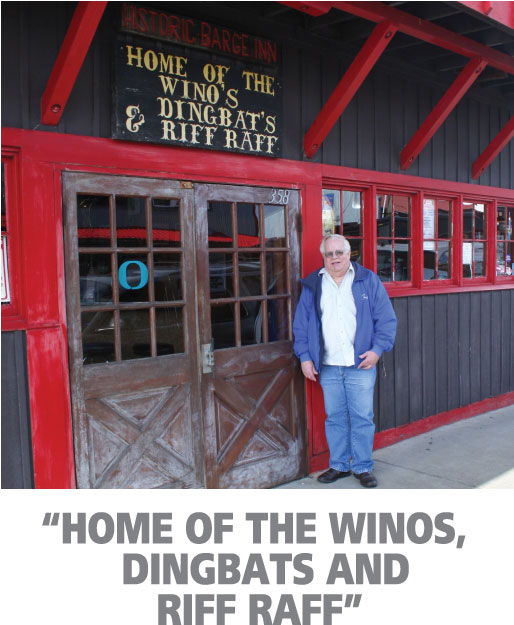 The worn sign above the door puts it all in perspective – you'll need a sense of humor to fit in at The Barge Inn, especially if longtime proprietor Pat Witham is holding court, which seems to occur on an almost daily basis. Despite his dry wit and penchant for finding anyone's level of gullibility, Pat will tell you what he enjoys most about operating the business is the "great people who like to spend time here".
During the 80's, Pat started coming to Newport to fish on the weekends. In 1992 he left Eugene, where he had operated a trucking business, to move to Newport full time. Driving his log truck locally, he began to look for a business that would "pay me even less than I was making as a trucker". In October of 1997, Pat and Phyllis Hoover started leasing the historic Barge Inn, a landmark on Newport's bayfront since 1936. Within a year he became the sole proprietor.
The Barge Inn is famous for its cheeseburger, which gets its distinct flavor from an old well-seasoned cast steel grill. Your other choices are hot dogs, beer and wine – "we don't even serve French fries", points out Pat. As limited as the menu is, the clientele is surprisingly diverse. Fishermen come in as early as 7 am for their morning coffee. Business people stop by for cheeseburgers at lunch. Regulars often laugh away an entire afternoon and tourists return year after year to feel like locals for a few hours.
For many years it was usually Pat behind the bar, but these days those duties are covered by his staff of three. Even in his semi-retirement, Pat still spends most of his days at The Barge Inn, thoroughly enjoying himself with longtime customers. His goals remain simple – "I just want to be able to pay for my grandson's college education," explains Pat.
Ask him about Oregon Coast Bank, where he has been banking since we first opened more than eight years ago, and Pat will tell you that he likes the fact that when he calls he's recognized simply by the tone of his voice. "It can be the grayest day, but I'm always smiling when I walk out of that bank," he says. Pat keeps all of his personal and business accounts at Oregon Coast Bank and has had several loans, including a recent one to remodel his kitchen.
Despite the fact that he tends to dispose of any Beaver memorabilia he finds on our desks, all of us at Oregon Coast Bank enjoy having Pat as a customer. We're also honored to be considered among the "winos, dingbats and riff raff" to regularly enjoy a beer and a burger at The Barge Inn.
More Stories
Read the story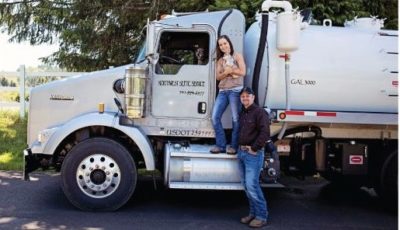 Lincoln City
Northwest Septic Service
Unquestionably, they were ready. They knew their market. He'd worked for years in the industry and they both understood customer…
Read the story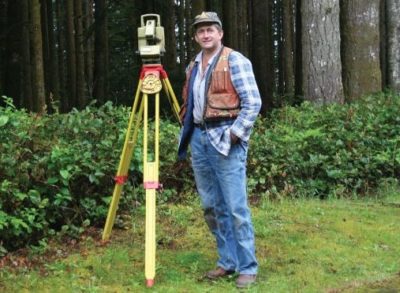 Waldport
Nyhus Surveying
Aside from his years studying forest engineering at Oregon State University, Gary Nyhus has lived his entire life in Tidewater….
Back to All Stories