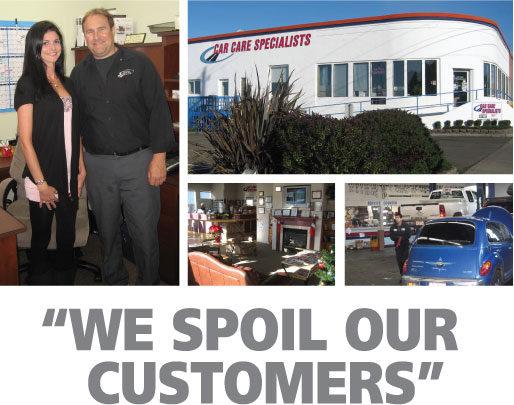 At the precocious age of 23, Randy Neal opened Car Care Specialists in Lincoln City. At the time, his business philosophy was based on a question he asked himself every day – "What can we do to exceed the expectations of our customers?" Twenty-two years later, he still continuously asks himself that same question, which may be why Car Care Specialists has grown so successfully.
First-time customers are always pleasantly surprised when they discover that Car Care Specialists offers free loaner cars, free shuttle service, a comfortable hotel-quality lobby, super-clean restrooms, even free Wi-Fi usage. Car Care Specialists is the only AAA-approved repair facility on the entire Oregon Coast and the company has been voted "Best Auto Repair Facility in Lincoln County" for the past two years by the listeners of KPPT Radio.
"We've invested heavily in equipment, personnel and training," explains Randy. Among his company's ten employees are five service technicians, each with ASE Certification. Car Care Specialists works on all vehicles, foreign and domestic. With the latest computer diagnostic equipment, the company can provide maintenance on virtually all new cars, which is important since Lincoln City has no new car dealerships. Car Care Specialists has earned a great reputation for fixing vehicles right the first time, which may be why their customers are so loyal, many have been returning for more than 20 years.
This past September, Randy launched an additional business. Car Care Tow-Pro provides 24 hour towing and roadside assistance throughout north Lincoln County. The company is AAA-approved and services all major motor clubs. So how does Randy exceed the expectations of towing customers? "Our trucks are newer, our uniformed drivers are friendly, and all of our tow trucks are multi-passenger, so when a tow is what's needed, we can also transport passengers," he explains.
Between them, Randy and his wife, Adena, have four children. Whether they're boating, racing "dirt toys", or just sharing time at home, it's always a family affair. Adena also manages the Car Care Specialists office as well as the couple's real estate investments and rentals.
In Randy's words, "it's imperative to have a financial institution that understands the coastal way of life". That's why he's been an Oregon Coast Bank customer since the bank first opened. Besides handling all of his business accounts, Oregon Coast Bank has provided equipment loans and refinanced the building that houses Randy's companies. It sort of makes us blush, but Randy insisted we print these words: "Without Oregon Coast Bank it would have been extremely difficult for our businesses to grow into what they have become today."
We certainly appreciate his kind words and we truly value the opportunity to work with hardworking entrepreneurs like Randy on a daily basis. If you're doing business on the Oregon Coast, we'd like to be doing business with you. Visit us in any of our five offices, and if by chance your car breaks down on the way, call Randy, he really does spoil his customers.
More Stories
Read the story
B & R Sheet Metal, Inc.
Sweeping the floors. That's how Troy Shepherd, a teenager at the time, began his career at B&R Sheet…
Read the story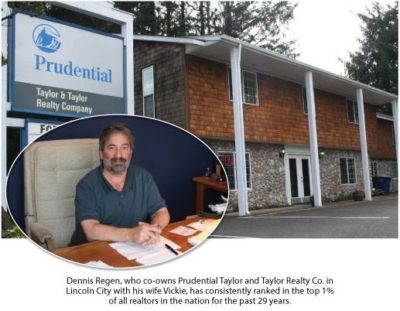 Lincoln City
Prudential Taylor and Taylor Realty Co.
The list of his accomplishments over the past 29 years is astounding. He's consistently ranked in the top 1% of…
Back to All Stories