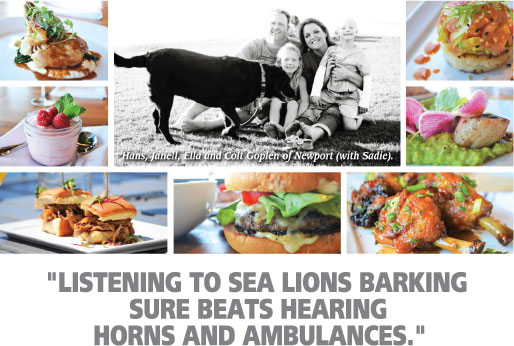 Janell Goplen's memories of growing up in Newport were so fond that she included "eventually moving home" as a condition of accepting her husband Hans' marriage proposal. Which may have been a first in Beverly Hills, California.
After her graduation from the University of Oregon, Janell became a professional dancer, ultimately moving to Los Angeles where she would open a dance studio and work in a series of marketing positions for Disney Productions.
There she met Hans, a California native. After starting his career in real estate financing and community development, Hans decided to follow his true calling, attending New England Culinary Institute, then working at The Peninsula in Beverly Hills, at the time Los Angeles' only 5-Star Restaurant.
Hans and a partner would go on to open their own critically-acclaimed restaurant – The Farm of Beverly Hills – a business that grew to five locations, more than 220 employees, and included a commercial bakery and large catering operation. On three separate occasions the company's on-screen food styling expertise was acknowledged by television shows accepting Emmys for Set Design.
Their lives were exciting, but as Janell and Hans began raising a family their priorities changed, and the bustle of Los Angeles began to lose its appeal. A trip to Newport to visit Janell's family and attend her high school reunion confirmed their thoughts about making the move. Within two months they had sold their California house and businesses and put an offer on a home in Newport, which closed in just 18 days. Janell was headed home, this time with her husband Hans, daughter Ella, son Colt and Sadie, the family dog.
Soon they had begun the process of remodeling a restaurant on Newport's bayfront, "just an arm's length" from the fishing fleet, an ideal location for a restaurant with a commitment to freshness.
Their goal was to create an establishment to serve an ever-evolving menu of locally sourced, beautifully prepared, fresh food – the same formula that had produced 14 years of success and awards in Beverly Hills. But now the attitude would be "laid-back coastal casual" and the prices would be comfortable for local patrons. There would be fresh cut flowers from the gardens of staff and extended family. The service would include "simple touches" like smiles, hellos and soft blankets for evening dining on the deck.
After much anticipation, Clearwater Restaurant opened this past summer to enthusiastic reviews from local residents and visiting "foodies". The innovatively-prepared fresh seafood was naturally popular, but Clearwater was committed to offering a balanced menu including rabbit, beef, duck, chicken, lamb and bison. Saturday and Sunday brunches have also proven popular, with many locals making it a regular part of their weekend.
Luncheons for local service clubs, fundraisers for school groups, parties for businesses and plenty of catering have made Clearwater a part of the community. As to the restaurant's success, Janell explains that "innovative food may initially be the attraction, but it's the service that brings people back." Hans humbly downplays the cuisine and says "you can't beat the view."
Exceptional chefs have a great deal of respect for each other, which is why Hans asked Doublas Soriano, who had worked for him for 14 years in Beverly Hills, to become executive chef at Clearwater. Janell, Hans and Doublas have nothing but praise for their staff, which exceeds 70 during the peak summer months. They also have plenty of nice words about their bankers at Oregon Coast Bank, who arranged financing for Clearwater and handle their business and personal accounts. "They've been so helpful," points out Janell. "They treat us like family, which is the same way we try to treat our customers."
"Moving from LA to Newport is one of the smartest things we ever did," explains Hans. "The kids love it, it's great being around family, and although we spend long hours at the restaurant, listening to sea lions barking sure beats hearing horns and ambulances."
More Stories
Read the story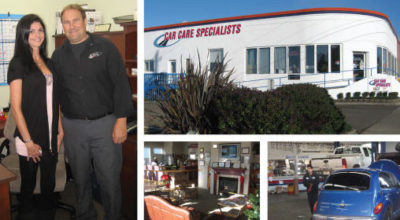 Lincoln City
Car Care Specialists
At the precocious age of 23, Randy Neal opened Car Care Specialists in Lincoln City. At the time, his business…
Read the story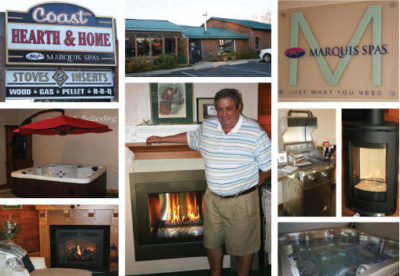 Newport
Coast Hearth & Home
At the tender age of five, Robin Comstock started selling sweet peas to tourists in Nye Beach.  After graduating from…
Back to All Stories